Automatic Fallback A/B Switch with Remote Management Port
The Model 4121 Automatic Fallback A/B Switch with Remote Management Port allows a device connected to the COMMON port to connect through to the A port. Unit monitors activity on port A, if activity is lost, unit switches to port B.
Contact | Link To Product | More Products By This Company
Images
Click on an image to see larger size image ...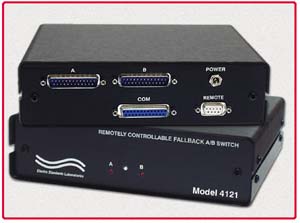 Specifications
| | | |
| --- | --- | --- |
| Common Port Connector | : | DB25 Female |
| A & B Port Connectors | : | DB25 Female |
| Controls | : | Pushbutton to select A or B |
| Display | : | (2) Red LEDs, switch position, power |
| Remote Port | : | (1) DB9/Female Serial RS232 |
| Power | : | 115VAC/60Hz UL approved Wallmount |
Details
The PathWay® Model 4121 Automatic Fallback Data Network Switch allows a device connected to the Common port to connect through to the A port. The Model 4121 network switch monitors data activity on port A. If activity is lost, the unit automatically switches to port B. The Model 4121 will maintain its connectivity to port B while data activity is present. At any point, if data activity is detected on port A, the unit will automatically return to the A position.

The user can override automatic fallback operation from the front panel and force the unit to operate as an A/B switch. To override automatic operation, the user simply depresses the front panel pushbutton and holds it for 5 seconds and then releases. The status LED previously lit steady ON begins to flash, representing manual override operation. Momentarily depressing and releasing the pushbutton then allows the user to change the switch connectivity. To change back to automatic operation, depress and hold the pushbutton for 5 seconds and the switch will automatically connect.

The remote RS-232 serial port allows an off site station to monitor and/or manage the switch. The off site operator can monitor the operation mode, fallback or A/B, the switch position, change the mode or switch position, and lockout the front panel pushbutton operation.

Features:
Ideal for fallback applications.
Data, handshake, and clock lines of RS232 interface are supported.
Front panel LEDs display the connectivity status & verify power connection at all times.
Rugged aluminum case provides shielding.
Other control configurations and interfaces are available.
Switching using latch relays maintain connection during power loss.
Transparent to data.
Remote port allows off-site monitoring and switch management.
Tags
Fallback Switch, A/B Switch, AB Switch, Automatic AB Switch, Model 4121, Electro Standards
Disclaimer:
Submitters of product listings are solely responsible for their content. PRLog can't be held liable for the contents of the product listings.
Report Abuse