Breakthrough Strategies to Teach Troubled Youth Distance Learning Workshop
Teacher professional development distance learning that works. Learn 200 more powerful solutions to turnaround classroom management problems, behavior concerns, bad attitudes, apathy, and more. College credit $43, free CEUs. 800-545-5736
Contact | Link To Product | More Products By This Company
Images
Click on an image to see larger size image ...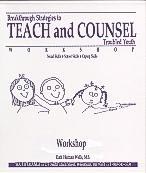 Specifications
| | | |
| --- | --- | --- |
| distance learning | : | college credit |
| professional training | : | clock hours |
| teacher training | : | PDUs |
| educator training | : | graduate credit |
| teacher seminars | : | innovative strategies for bad behavior |
Details
This problem-stopping, information-packed professional development inservice delivers the best answers for your worst kid problems. This must-have seminar is packed with the new, more effective interventions you need, and provides you with hundreds of reproducible, attention-grabbing behavior change worksheets. The Breakthrough Strategies to Teach and Counsel Troubled Youth Recorded Workshop is packed with powerful, ready-to-use answers for violent, withdrawn, non-compliant, defiant, abused, unmotivated, at-risk, truant and delinquent youth and children grades K-12. If you are a teacher, counselor, special ed teacher, juvenile court worker, psychologist, social worker, or mental health staff member, you'll use every word of this distance learning continuing ed workshop.

This home study workshop delivers what it promises to teachers, counselors, justice workers and foster parents: 200 ready-to-use, "must have" tools-- even for extreme violence. We give you the 3 types of kids at highest risk of extreme violence like school shootings, then show you how to intervene completely differently with each type. We give preventive strategies that every contemporary youth professional must have in these turbulent times. This is the one training workshop that actually delivers exactly what it promises. Call 800-545-5736 for free samples or to ask questions.
Tags
professional, development, training, staff, teacher, teachers, educator, inservice, distance, learning
Disclaimer:
Submitters of product listings are solely responsible for their content. PRLog can't be held liable for the contents of the product listings.
Report Abuse