LDTC1020 Complete Laser Diode Control in a Compact Package
The LDTC1020 includes two low noise FL500s and drives up to 1 Amp of stable, safe laser diode current. The ultra-stable WTC3243 provides up to 2.2 A of bipolar current for a TEC or resistive heater.
Contact | Link To Product | More Products By This Company
Images
Click on an image to see larger size image ...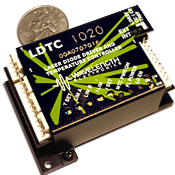 Specifications
| | | |
| --- | --- | --- |
| Size | : | 2.35" x 2.9" x 1.075" |
| Supply Voltage | : | +3 to +12 V |
| Output Current | : | 1 A laser diode & 2.2 A TEC or RH |
| Package | : | Chassis mount |
| Safety | : | Slow-Start, Brownout, Current Limit |
Details
Integrated controls make the LDTC1020 a plug-and-play module. Monitor signals are brought out on one cable. Onboard trimpots set current limits and operating setpoints. Remote inputs are provided for both laser driver current setpoint and temperature setpoint. Onboard switches set laser diode current Enable/Disable and select Constant Current or Constant Power mode. The unit is 2.4x2.9x1.1 inches.

The LDTC1020 protects against brownouts and slowly ramps the current for maximum protection. The temperature controller has added default protection in case a D/A remote setpoint is lost, automatically setting control near ambient. Default is 25°C for a 10 kΩ thermistor (1 V).

The robust module has been integrated into demanding applications such as military, spectroscopy, and biosciences.
Tags
laser diode control, laser diode driver, temperature control, TEC controller
Disclaimer:
Submitters of product listings are solely responsible for their content. PRLog can't be held liable for the contents of the product listings.
Report Abuse