FL500 Reflow Compatible Low Noise Laser Diode Driver
The low noise FL500 Laser Diode Driver comes in an SMT package that is compatible with higher temperature RoHS-compliant manufacturing processes.
Contact | Link To Product | More Products By This Company
Images
Click on an image to see larger size image ...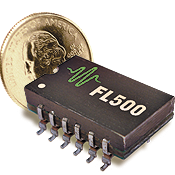 Specifications
| | | |
| --- | --- | --- |
| Size | : | 0.75" x 0.45" x 0.255" |
| Supply Voltage | : | +3 to +12 V |
| Package | : | 12-pin, SMT |
| Output Current | : | 500 mA single channel, or configured as two 250 mA |
| Safety | : | Slow Start, Brownout Protection, TTL-Compatible Shu |
Details
The FL500 surface mount chip is ideal for OEM instrumentation. It offers exceptionally low noise laser diode control that can be configured either as two independent 250mA drivers or a single 500mA driver. The FL500 can run on a +3V Lithium-ion battery or up to a +12V power supply. Small size, low noise and modest power requirements make it the choice for handheld precision laser instrumentation.

Wavelength Electronics is committed to state-of-the-art, reliable quality manufacturing, both for our own products and for the OEM customers we support. Manufacturing processes, inspection criteria and equipment are established with quality the foremost goal. In addition, efficiency is paramount to minimize production costs – savings we pass on to our customers. Our on-time delivery is 99%.
Tags
diode power supply, laser diode control, laser diode driver, laser diode current, 500mA current source
Disclaimer:
Submitters of product listings are solely responsible for their content. PRLog can't be held liable for the contents of the product listings.
Report Abuse