Journey to Cherchen and Other Tales
If you're tired of visiting the same old places and willing to try something that isn't "on the same page" as the others, this is the read for you. A multicultural collection of stories based on mythological themes.
Contact | Link To Product | More Products By This Company
Images
Click on an image to see larger size image ...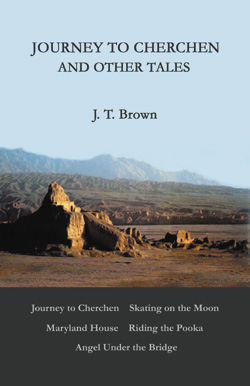 Specifications
| | | |
| --- | --- | --- |
| genre | : | fiction |
| cover | : | paperback |
| type | : | literary |
| subject | : | multicultural |
| theme | : | mythological |
Details
In the 1970's and thereafter, perfectly preserved 3,000-year-old mummies began appearing in a remote desert region in Xinjiang China. There has been much speculation about the origins of these Caucasian people found in this fascinating area of Central Asia. Journey to Cherchen is a weave of research and speculation about the mummies with an adventure tale. Nick Taylor, an archeologist, is led by subtle supernatural forces along the Old Silk Road to the tomb of an ancient Celtic shaman in a desert town called Cherchen in Xinjiang. He and the shaman have something in common - an extra bone. By looking through a hole in the bone he is transported three thousand years into the past and discovers the location of The Lost City of Cherchen, buried beneath the desert for millenniums.

An experimental operation goes awry in Skating on the Moon and traps Annie Walker, a success driven stockbroker, in a permanent dream from which she cannot escape. A brilliant Indian sleep therapist enters her dream through a "dream portal" and teaches her to make her own world with lucid dreaming.

George Anders is the victim of a mind control experiment in Maryland House. Although he seems to know what he's talking about, someone is putting the words in his mouth.

Riding the Pooka is a tale based on Irish mythology. The Pooka appears in the shape of a horse to a weary traveler and entices its victim to mount on its back. Malachy Hannon is taken on the ride from hell across the countryside and almost doesn't make it home.

There are some things that aren't right in this world, but the Angel Under the Bridge can straighten them out. It comes from another reality in the Void, but uses its unusual abilities to straighten out the wrinkles in the life of an unfortunate girl who jumps from its bridge.
Tags
foreign travel, good books, reading, literature
Disclaimer:
Submitters of product listings are solely responsible for their content. PRLog can't be held liable for the contents of the product listings.
Report Abuse