Model 4215 Dual Channel Smart Strain Gauge Indicator
Model 4215 strain gauge indicator provides strain amplifier and signal conditioning for strain gages, load cells, and transducers. This instrumentation provides for calibration and data storage of strain gages, load cells and transducers.
Contact | Link To Product | More Products By This Company
Images
Click on an image to see larger size image ...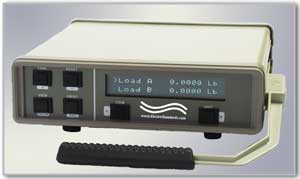 Specifications
| | | |
| --- | --- | --- |
| Display | : | Fully bipolar range +/-999,999 display |
| Resolution | : | 24-bit |
| Nonlinearity | : | 0.005% |
| Fluorescent display | : | 2-line x 20-character vacuum florescent |
| Auto Load Cell Id | : | TEDS-Tag |
| Auto Setup | : | For 25 load cells |
| Functions | : | Peak, Valley, Hold, Tracking, Peak Reset |
| Filters | : | 6 user-selectable |
Details
Model 4215A-204-1 Dual Channel Smart Indicator Calibration Quality Load Cell Electronics

The Model 4215A-204-1 Dual Channel Strain Gage Indicator is an intelligent microprocessor based instrument designed for the measurement and control of strain gage transducer based systems. It combines the force channels, encoder position channels, print capabilities, and RS232/485 serial communications into a versatile platform that can be customized to deliver the most powerful and affordable instrumentation in its class.

The Model 4215 strain gage indicator is compatible with most tensile testers, load cells, extensometers, torque transducers, pressure sensors and position encoders. Model 4215 strain gauge indicator provides strain amplifier, signal conditioning, calibration and data storage for strain gages, load cells, and transducers. The Model 4215 can be used as a Thrust System Indicator applicable to the testing of jet engines.

Whether you are upgrading an existing system or implementing a new one, the Model 4215 brings you the accuracy, reliability, and repeatability needed to meet the most demanding applications.

Model 4215A-204-1 Dual Channel Smart Indicator Features:
USB Communications Port.
TEDS-Tag Auto Load Cell Identification.
Fully Bipolar Range +/-999,999 display.
24-bit resolution.
Nonlinearity 0.0005%.
2-line X 20-character vacuum fluorescent display.
User input text display on second line of display.
Auto setup for 25 load cells.
Front panel shunt calibration with 2 selectable resistors.
Functions include: peak, valley, hold, tracking, peak reset.
Quad limits output: independent, isolated solid state relays, controls AC or DC signals.
Six user-selectable filters.
Tri-state limit display: on, off, disabled.
Automatic display unit conversation: Lb, Kg, N, Psi, Mpa, Klb, Kn, t.
D/A output: +/-10V std; +/-5V, 0-5V, 0-10V std. per reques.
Direct analog amplifier output.
RS-232/RS422, RS485 communication standard.
Full operation and calibration via RS232.
5-point linearization.
Quadrature encouder channel for position and rate readout.

Optional Features:
4 - 20mA output.
Rugged carry handle.
USB communications port.
10-Point linearization.
Second D/A output.

dataView Software Ready (Catalog No. 511040)
Standard unit is dataView ready for graphical user interface and connection to PC.
dataView software operates at full speed for single and dual channel unit real time data acquisition.

dataView Graphical User Interface Software for the Model 4215 Series Smart Indicators

Graphical User Interface Software integrates the computer with the Model 4215 Series Smart Indicators.

dataView Software Features:

Networks multiple Model 4215's together.
Automatic addess Identification.
TEDS-Tag® auto load cell indentification.
Calibrate, setup, operate any Model 4215 in the Network.
Full function point-and-click Graphical User Interface.
Plug and Play with the Model 4215 Smart Indicator.
Full speed data acquisition and plotting.
Compatible with single and dual channel units.
Compatible with Windows XP Pro.
Data export into standard spead sheets.
Store and recall data files.
Create and retrieve configurations files.
Report generation.
Tags
strain indicator, Strain Gauge, Load Cell Indicator, Smart Indicator, TransduceR, TEDs-Tag, torque transducers, pressure sensors, Model 4215, transducer system
Disclaimer:
Submitters of product listings are solely responsible for their content. PRLog can't be held liable for the contents of the product listings.
Report Abuse