Breathing: The Master Key to Self-Healing
This is a test only course (CD not included). The audio can be purchased or downloaded from Amazon.
Contact | Link To Product | More Products By This Company
Images
Click on an image to see larger size image ...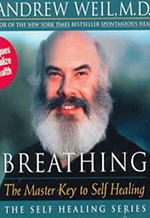 Specifications
| | | |
| --- | --- | --- |
| Price | : | $18 |
| Publication Date | : | 1999 |
| Test Questions | : | 15 |
| CE Hours | : | 2 |
| Learning Level | : | Introductory |
Details
The breath is intrinsically linked to the nervous system and has a powerful effect on both the mind and body, yet has been largely overlooked as a mechanism of change within medicine and mental health. This course is based on an audio book by Andrew Weil, MD, Breathing: The Master Key to Self-Healing (1999), in which he describes the physiological mechanisms by which the breath affects the mind and body. After an introductory lecture, he teaches several calming, relaxing breathing techniques, as well as an energizing breathing technique. This audio book is a valuable resource for therapists and medical professionals to learn these techniques and to use with clients.

Learning Objectives:

1. Describe the history of breathwork, including its origins and more recent use
2. Identify physical and mental benefits of breathing techniques
3. Describe the physiological mechanisms by which breathing techniques affect the body and mind
4. Describe the benefits of breathing techniques relative to modern pharmaceutical interventions
5. Describe specific breathing techniques designed to promote health

About the Author:

Andrew Weil, MD, is an internationally acclaimed leader in the field of integrative medicine. A graduate of Harvard Medical School, he is the founder and director of the Arizona Center for Integrative Medicine at the University of Arizona Health Sciences Center, in Tucson, where he is also a Clinical Professor of Medicine and Professor of Public Health and the Lovell-Jones Professor of Integrative Rheumatology.

More information about Andrew Weil, MD, can be found at his website: www.drweil.com

Accreditation Statement:

Professional Development Resources is recognized as a provider of continuing education by the following:
AOTA: American Occupational Therapy Association (#3159)
APA: American Psychological Association
ASWB: Association of Social Work Boards (#1046)
CDR: Commission on Dietetic Registration (#PR001)
NBCC: National Board for Certified Counselors (#5590)
NAADAC: National Association of Alcohol & Drug Abuse Counselors (#00279)
California: Board of Behavioral Sciences (#PCE1625)
Florida: Boards of SW, MFT & MHC (#BAP346); Psychology & School Psychology (#50-1635); Dietetics & Nutrition (#50-1635); Occupational Therapy Practice (#34). PDResources is CE Broker compliant.
Illinois: DPR for Social Work (#159-00531)
Ohio: Counselor, Social Worker & MFT Board (#RCST100501)
South Carolina: Board of Professional Counselors & MFTs (#193)
Texas: Board of Examiners of Marriage & Family Therapists (#114) & State Board of Social Worker Examiners (#5678)
Tags
Breathing, continuing education, audio course, online ce, Andrew Weil, pdresources, professional
Disclaimer:
Submitters of product listings are solely responsible for their content. PRLog can't be held liable for the contents of the product listings.
Report Abuse