Developmental Effects of Alcohol
This is a web-based online CE course requiring an internet connection to access the online reading materials. Course instructions provide direct links to the 4 public-access online documents.
Contact | Link To Product | More Products By This Company
Images
Click on an image to see larger size image ...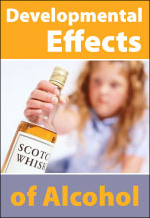 Specifications
| | | |
| --- | --- | --- |
| CE Credit | : | 4 Hours |
| Price | : | $36 |
| Publication Date | : | 2009 |
| Page Numbers | : | 61 |
| Test Questions | : | 28 |
Details
This course is based on four public-access journal articles published by the National Institute on Alcohol Abuse and Alcoholism in the online journal Alcohol Research & Health. The issue of the journal in which these articles appeared was devoted to the topic: "A Developmental Perspective on Underage Alcohol Use." This course is based on the first four articles, which focus on the impact of alcohol on the development of children and youth from birth through 20.

Learning Objectives:

1. Describe developmental processes and mechanisms that are relevant to underage drinking
2. Describe animal research pertaining to alcohol use during childhood and adolescence
3. Describe research on alcohol use among children from before birth through age 10
4. Describe research on alcohol use among children from ages 10 through 15
5. Describe research on alcohol use among children from ages 16 through 20

About the Author(s):

The National Institute on Alcohol Abuse and Alcoholism is one branch of the National Institutes of Health, located in Bethesda, Maryland. Authorship of the seven articles upon which this course is based are noted in the articles themselves, which can be accessed using the links above.

National Institute of Alcohol Abuse and Alcoholism
National Institutes of Health
6001 Executive Boulevard
Rockville, MD 20852

Accreditation Statement:

Professional Development Resources is recognized as a provider of continuing education by the following:
AOTA: American Occupational Therapy Association (#3159)
APA: American Psychological Association
ASWB: Association of Social Work Boards (#1046)
CDR: Commission on Dietetic Registration (#PR001)
NBCC: National Board for Certified Counselors (#5590)
NAADAC: National Association of Alcohol & Drug Abuse Counselors (#00279)
California: Board of Behavioral Sciences (#PCE1625)
Florida: Boards of SW, MFT & MHC (#BAP346); Psychology & School Psychology (#50-1635); Dietetics & Nutrition (#50-1635); Occupational Therapy Practice (#34). PDResources is CE Broker compliant.
Illinois: DPR for Social Work (#159-00531)
Ohio: Counselor, Social Worker & MFT Board (#RCST100501)
South Carolina: Board of Professional Counselors & MFTs (#193)
Texas: Board of Examiners of Marriage & Family Therapists (#114) & State Board of Social Worker Examiners (#5678)
Tags
alcohol, development effects, continuing education, online course, mental health, CE
Disclaimer:
Submitters of product listings are solely responsible for their content. PRLog can't be held liable for the contents of the product listings.
Report Abuse