Boat Snap Extensions
Canvas Extension Extend your snap For your shrunk Boat Covers Stop pulling on your boat cover Made out of 1in. black nylon webbing and quality snaps Make them to the length you want minimum order 12 for $19.95
Contact | Link To Product | More Products By This Company
Images
Click on an image to see larger size image ...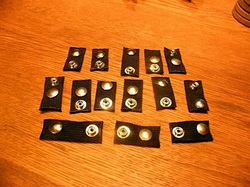 Specifications
| | | |
| --- | --- | --- |
| boat canvas extension | : | 1 inch |
Details
Canvas Extension
Extend your snap
For your shrunk Boat Covers
Stop pulling on your boat cover
Made out of 1in. black nylon webbing and quality snaps
Make them to the length you want minimum order 12 for $19.95
Free shipping USA
also check out our snap tool
This snap tool takes the struggle out of snapping or unsnapping your boat canvas. This is the only snap tool that will work on either inside or the outside snaps, the Top-Snapper's stainless steel notched blades slip over the snap shoulder so that you can position and snap it closed.
Tags
boat snap extensions, snap extenders, canvas extensions, boat canvas extender, snap extensions, snap extender, snap extension, boat snap extender
Disclaimer:
Submitters of product listings are solely responsible for their content. PRLog can't be held liable for the contents of the product listings.
Report Abuse