Challenger SRT8 Polished Stainless Hemi Fuel Rail Covers
Stainless steel fuel rail covers with HEMI logo for your 6.1L SRT8 Challenger.
Contact | Link To Product | More Products By This Company
Images
Click on an image to see larger size image ...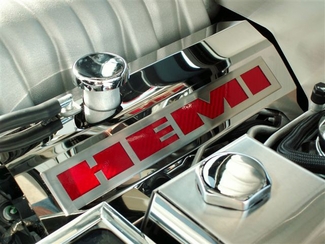 Specifications
| | | |
| --- | --- | --- |
| Stainless Steel | : | Polished |
| Hemi Letters | : | Red, Black, Blue, Orange |
| Fitment | : | 6.1L Hemi |
| Laser Cut | : | Yes |
| Origin | : | USA |
Details
For 2008-2010 Dodge Challenger SRT8

Polished Stainless Hemi Fuel Rail Covers The letters are cut out of stainless steel that gets vinyl blue, orange, red, black or carbon fiber letters sandwiched between it and the polished fuel rail covers.

All Stainless Steel high polished "HEMI" style cut-out engine fuel rail covers will not tarnish or fade like chrome. Installs directly over your stock fuel rails.

Includes chrome cap and installation instructions.

Your choice of Carbon Fiber, Red, Orange, Black or Blue Lettering.

Crafted from Stainless Steel and will never tarnish or rust like chrome.
Laser Cut for accuracy.
Improves the under hood looks!
Will not come off with road or engine vibration.
Great improvement for Car Shows or the Avid Car Lover!
Made in the USA!
Tags
Disclaimer:
Submitters of product listings are solely responsible for their content. PRLog can't be held liable for the contents of the product listings.
Report Abuse