Organic & Toxic Free Ready-To-Go Travel Kit
The Ready-To-Go Travel Kit is created to provide your favorite products in airline-compliant sizes. This is the perfect starter package for all wanting to try a wide variety of our Organic & Certified ToxicFree products.
Contact | Link To Product | More Products By This Company
Images
Click on an image to see larger size image ...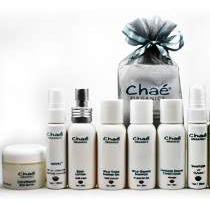 Specifications
| | | |
| --- | --- | --- |
| Organic | : | Organic |
| Toxic Free | : | Toxic Free |
| Holistic | : | Holistic approach for body, mind, spirit |
| Anti-Aging | : | Anti-aging |
| Green | : | Green |
| Age-defying | : | Age-defying |
| Natural | : | Natural |
Details
50% off Spring Special - $25.00 includes shipping in USA only

Valued at $51.95

Exclusively from Organic & Toxic Free Products

Ready-To-Go Travel Kit Includes:

Wild Thing Shower Gel 2 oz.
Wild Orange Shampoo 2 oz.
Lavender Dreams Conditioner 1 oz.
CocoMango Body Butter 2 oz.
Body Lotion - Vanilla Cream 2 oz.
Safe4u SPF15 1 oz.
Sanitizer 1 oz.

Limited Supply. Order yours today. At this price, we will be sold out very quickly!


WILD THING SHOWER GEL:
Gentle botanical cleanser washes away pollutants while the skin is soothed, moisturized and protected against free radical damage. Cationic charged ingredients immediately bind to moist skin providing resistance against the drying effects of chemical additives in water. Chlorine and other contaminants often present in water are bound together and rinsed clean without drying the skin, while unique ingredients aid in optimal moisture retention. Your skin will feel clean, fresh and healthy with this soothing, nutrient-rich cleansing gel. It gently cleanses all skin types leaving soft, moist, healthy-looking skin. Hydrates, revitalizes and rejuvenates as it reduces effects of everyday environmental stress by fortifying immune system.


WILD ORANGE SHAMPOO:
Every day abuse of hair due to coloring, curling, ironing or perms can create damage to the hair follicle. Not only do these treatments dry the hair, but the hair follicle itself can be blocked, creating further problems such as hair thinning and loss. Wild Orange Shampoo can help to unblock clogged hair follicles, moisturize the hair and keep the scalp free of bacteria and fungal problems. For those with dry hair, the addition of nutritional ingredients can help to unblock sebaceous glands and encourage the flow of the body\'s own moisturizing oils, while clearing away unsightly dead skin cells. For oily skin, this shampoo can help cleanse the scalp of bacterial and fungal irritations and help disperse dead skin cells without additional oil secretion. This moisturizing shampoo makes an excellent treatment when dealing with dandruff. Medical professionals list infection, poor diet, blood circulation and inadequate nerve stimulation as some of the causes of dandruff. A yeast that lives on the scalp, Pityrosporum ovale, and a fungus called trichoplyton spp also contributes to dandruff conditions. While there are many anti-fungal and bacterial soaps and shampoos on the market, this Wild Orange Shampoo offers a natural alternative.


LAVENDER DREAMS CONDITIONER:
Balanced, deep-conditioning, highly effective beauty treatment with organic botanicals. Especially effective for nourishing dry, chemically treated hair. The high performance conditioning action strengthens and helps thicken each hair shaft. Smoothes frayed hair cuticle for detangling ease. Helps repair split ends. Recommended for normal color, graying, and color treated or permed hair. It is excellent for long hair.


COCO MANGO BODY BUTTER:
The aging process of our skin is affected by moisture loss that can be associated with over exposure to the sun, environmental pollutants and chemical toxins that can break down the very support structure. This results in fine lines, wrinkles, age spots and uneven tone. Coconut Mango Body Butter penetrates to the deepest layers delivering essential moisture and critical nutrition to facilitate the repair of this damage. Utilizing the benefits of specific herbal extracts, oils and vitamins begins the repair process of this delicate system and also inhibits loss of important moisture creating a healthier, more youthful appearance.


BODY LOTION - VANILLA CREAM
An ideal all-over body lotion that revitalizes, rejuvenates, and hydrates all day long. Reward your skin with nutrition that reverses damage from dryness, sun, and stress. Your skin will look and feel younger as the appearance of aging is dramatically reduced with the help of naturally occurring beta-carotene and essential fatty acids. The Chaé advantage is a unique emulsifier-free, non-greasy formula for chronic dry skin all over your body, including hands and feet.


SAFE4U™ SPF15 SUNSCREEN:
Protecting your skin from damaging UVA/UVB rays is crucial to retaining youthful, beautiful skin. Safe4u™ SPF15 Total Body Sunscreen provides this critical protection when utilized in the recommended fashion. Packed with antioxidants and nutritional ingredients without age accelerating chemicals, you are protected from sun-induced causes that make the skin look older. With proper sunscreen protection, health is yours, while still enjoying the benefits of fresh air and sunshine.

• Goes on translucent . . . no tell-tale white film
• NO sting formula
• Will not contribute to breakouts or redness
• Water-resistant; won't run when you perspire
• Packed with antioxidants to protect your skin
• Prevents wrinkles, brown spots, sun damage, and sagging skin
• NO fragrance, parabens, PABA, synthetic chemicals
• NO harm to your immune system
• NO negative impact on the environment
• Safe for the entire family including nursing or pregnant women, children and infants.


SANITZER:
Active anti-microbial action makes this product ideal for treating broken, irritated skin, sanitizing hands (all skin areas) as well as disinfecting hard surfaces as well. Stabilized Liquid Oxygen is flexible and useful for cleaning and sanitizing minor scrapes and abrasions. This product is completely safe for people and pets alike. Use with complete confidence to sanitize baby's bedroom, bath, play areas, toys and eating area without concern of any toxic chemical exposure.


Now you can have it all...

* Organic and natural ingredients
* 100% Toxic Free ingredients
* Clinical strength performance
* Regenerative, clarifying, age-defying results
* Holistic approach for body, mind, spirit
* Sustainable harvesting respects the earth.

Organic ingredients and active delivery systems provide results once reserved for synthetic, chemical ingredients. Chae products mitigate and reduce effects of stress, environmental factors, and busy lifestyles.

Our desire is to create healthy solutions for you and your family, and make life more convenient.
Tags
Organic cosmetics, organic skincare, organic skin care, toxin free skincare, toxic free makeup, toxic free cosmetic, toxic free skincare, chae organics, natural skin care, green cosmetics
Disclaimer:
Submitters of product listings are solely responsible for their content. PRLog can't be held liable for the contents of the product listings.
Report Abuse