Blue Light Solid Perfume
Blue Light consists of sensual fragrances from sacred flowers well known since centuries. Unusual and rare to find it comforts your skin and the air around you. Simply beautiful all day long!
Contact | Link To Product | More Products By This Company
Images
Click on an image to see larger size image ...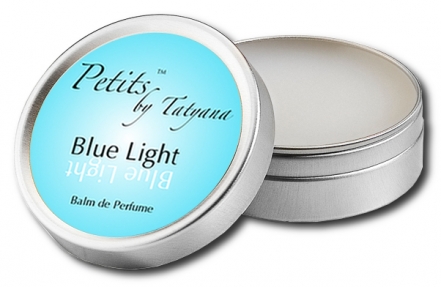 Specifications
| | | |
| --- | --- | --- |
| Base | : | Shea Butter |
| Fragrance | : | Blue Lotus, Pikake (Jasmine) |
| Size | : | .35oz |
| Package | : | Tin Jar |
| Type | : | Solid Perfume |
Details
Petits by Tatyana Balm de Perfume are vibrant and fragrant solid perfumes made with 100% natural botanicals. A melange of carefully selected essentials & absolute oils and moisturizing Shea butter without use of any artificial ingredients or beeswax! Indulge your body and soul with Aloha from mother earth!

Blue Light contains 100% natural botanicals:Blue Light Solid Perfume from Petits by Tatyana

Blue Lotus
Pikake (Jasmine)
Sandalwood
Palo Santo
Shea Butter
.35oz in recycled tin jar

Petits by Tatyana come in easy to carry beautiful tin jars, made out of recycled metal, our contribution to a better life style, with more awareness of what you use on your skin while using less resources from our planet.

Petits do not contain any fillers or by products! No parabens, animal testing, animal ingredients or artificial colors. 100% VEGAN and Gluten-free. Please store cool and dry for best consistency.
Tags
solid perfume, parfum, shea butter, Essential Oils, natural perfume, Fragrance
Disclaimer:
Submitters of product listings are solely responsible for their content. PRLog can't be held liable for the contents of the product listings.
Report Abuse