Dropship High Sensitive Magic Stylus Touch Pen For Apple iPad iPhone iPod
Here is a recommendation if you want to get a High Sensitive Magic Stylus Pen For your Apple iPhone iPad iPod. It is at low China Factory Direct Price on NearbyExpress.com, which can be shipped directly from China Factories.
Contact | Link To Product | More Products By This Company
Images
Click on an image to see larger size image ...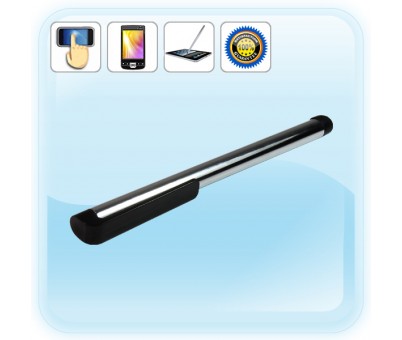 Specifications
| | | |
| --- | --- | --- |
| Name | : | High-Sensitive Stylus Touch Pen |
| Length | : | 4 inch |
| Material Body | : | Metal |
| Package Included | : | 1 Stylus Touch Pen (Silver Color) |
| Color | : | Silver |
Details
High Sensitive Magic Stylus Pen For Apple iPhone iPad iPod to Dropship from China with NearbyExpress.com.

NearbyExpress is a USA-based Wholesaler and Dropship Supplier of China Electronics, including Laptop Accessories, Cell Phone Accessories, iPad iPhone iPod Accessories, Car Headlight Kits, LED Watches, Internet IP Camera, Office Electronics, Audio and Video Equipments, Pet Supplies, China Oil Paintings and etc..

It Does Not Scratch Up Your Touch Screen



New to market high-tech brush stylus pen for your Apple iPhone iPad iPod. With this pen in the hand, you can better use the touch screen functions of your phone or digital media device without having to use your fat fingers. This "magic" touch pen protects your screen from scratches.



If the original touch pen for your iPhone / ipad / iPod is scratching your screen, does not work well for you, or simply is lost, then we suggest buying this high-sensitive stylus touch pen as a perfect replacement. We promise that this fashionable and high quality stylus soft touch pen is better than the original one. Why? Because it's easier to hold in your hand, and it does not scratch up your touch screen. The highly sensitive stylus tip gives you the smoothest and accurate navigation. Its elegant and contemporary design also make this pen look great with both business and casual attire.



This "magic" stylus pen is the perfect answer for everyone looking to get better performance from their beloved Apple touch screen devices. You can place a trial order to buy a single piece for yourself or order in bulk for your wholesale business. What's more, our price is 1/3 of the price of similar products online. Do a google search and see for yourself! We offer you the true factory direct wholesale price on this iPhone / ipad / iPod accessories. So whether you are looking to just get one for a friend or to stock your dropship internet store, you have come to the best online source – nearbyexpress.com!



Item Summary:

High-Sensitive Stylus Touch Pen is your best choice for your iPhone/iPad/iPod

The HIGH QUALITY stylus pen is BETTER than original stylus

In stock in your regional warehouse for ultra-quick delivery

Brand new product with factory direct lowest price



China Manufacturer Specifications:

Product Description: Replacement stylus for Apple iPhone iPad iPod

Product Recommendations: Jamie Markle, James Rizzi, John David Thomas

Length: 4 inch

Material Body: Metal

NOTE: This universal touch screen stylus should be used as a external pen that fits on the lanyard slot of your phone or tablet.



Package Included:

Brand New Product. 1 Stylus Touch Pen (Silver Color)

For more information, please visit NearbyExpress.com.
Tags
Stylus Touch Pen, iphone accessories, Ipad accessories, iPod Accessories, tech fashion, tech gadgets, tech accessories, tech gadget
Disclaimer:
Submitters of product listings are solely responsible for their content. PRLog can't be held liable for the contents of the product listings.
Report Abuse