RobotPad 10.1-inch Android 2.2 Tablet WiFi Built-in GPS 3G PC
Papatek announced an Android 2.2-based tablet that comes with great quality this week. The screen is 10.1 inch resistance touch screen, the CPU of it is infomix ix210 1GHz, the RAM is 512MB and Storage is 4G, But it supports TF card 32GB extend max.
Contact | Link To Product | More Products By This Company
Images
Click on an image to see larger size image ...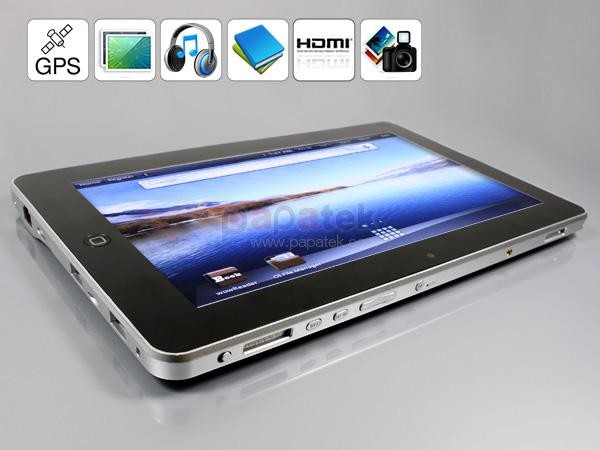 Specifications
| | | |
| --- | --- | --- |
| Camera | : | 200,0000 Pixel Webcam |
| Operating System | : | Android 2.2 |
| Processor Type | : | InfomtX210 |
| CPU frequency | : | 1G Hz |
| Hard Drive Capacity | : | 4GB |
| Expansion | : | One TF card slot (Max up to 32GB) |
| Memory | : | 512MByte DDR2 200MHz |
| Browser | : | Google 2.1 |
| WIFI | : | 802.11 b/g |
| 3D | : | 3D display &3D games supported |
Details
High quality, low price: With an Android 2.2 Based on Infomt*210,up to 1GHz of the Tablet , the RobotPad will easily keep up with your every action and command,10-inch(1024*680 pixels) WXGA touch screen make the details just looks better and the pictures smoother. With everything so much faster and smoother than the competition, you can feel the difference in quality and know that you have a top-of-the-line device in your hands. Best of all, this affordable Android Tablet is the best bang for your buck today and brought to you at a factory-direct price that can't be matched. How do we do this? By cutting out the middle man and selling to you factory-direct with no markup and no extra fees!

Gain access to everything: Haven't heard of Android? It's only the most popular operating system in the world and includes true multi-tasking, widgets, and many more features that can't be found anywhere else. Best of all, the RobotPad comes installed with convenient applications such as Gmail, Google Maps, Skype,play your favorite 3D games,and of course Google Android Marketplace, which is home to almost 100,000 other third-party applications (with top favorites being Twitter, Facebook). With the RobotPad, there's nothing you can't do.

Other Product Notes:
Built-in 8000mAh Li-polymer battery to stand more than 8h using with WIFI and standby.
Built-in 4G NAND flash and maximum 32GB TF card supported.
TV out lets you view the Android Tablet on your large screen TV.
Built-in 200,0000 pixels camera.
Tags
android tablet 2.2, best android tablet, cheap android tablet
Disclaimer:
Submitters of product listings are solely responsible for their content. PRLog can't be held liable for the contents of the product listings.
Report Abuse