Waste transformer
(Contact person: Jarod, Phone:0086-13594631205, Skype:oilrecycling MSN,Email: oilpurifierzn@hotmail.com Transformer Oil Purifier & Oil Treatment Manufacture Co., Ltd
Contact | Link To Product | More Products By This Company
Images
Click on an image to see larger size image ...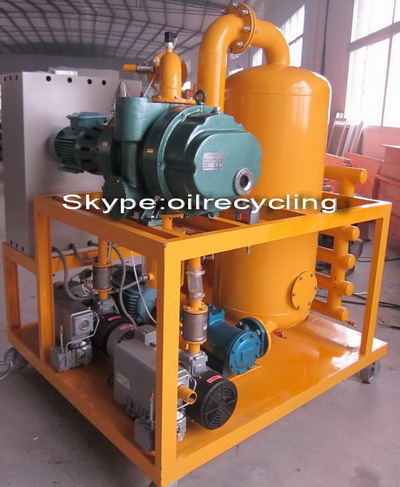 Specifications
| | | |
| --- | --- | --- |
| length | : | 160 |
| width | : | 150 |
| height | : | 140 |
| capacity | : | 6000 |
| weight | : | 180 |
Details
Transformer Oil Purifier & Oil Treatment Manufacture Co., Ltd is a high-technical enterprise specialized in developing and manufacturing oil filter action facilities for many years. We have widely absorbed a vast amount of advanced technology from inland and abroad. Nowadays, we are one of the largest enterprises in the same field, producing oil purifier with good and steady quality, which are widely used in oil-filter fields, such as electric power plant, power station, oil field. It is wisely used for transformer oil, turbine oil, lubricant oil, fuel oil, engine oil, and so on.
Products including:
ZY /ZYA Series High Efficiency Vacuum Oil Purifier ;
ZYB Series Multi-Function Oil Purifier;
ZYC multi-purpose high efficient vacuum oil purifier series
ZYD Series High Efficiency Two-stage Vacuum Oil Purifier;
LYE Series Oil Purifier Special For Engine Oil;
TY Series Oil Purifier Special For Turbine Oil ;
TYA Series Oil Purifier Special For Lubricating Oil;
TYC phosphate ester fire-resistant oil purifier series;
TYD water and oil separator;
……etc.
The product has passed ISO9001:2000 and CE it can meet your different needs.
Tags
waste transformer, scavenge oil, refuse oil, slop oil, slop, waste transformers, scavenge oil purify, refuse disposal, garbage disposal, rubbish treat
Disclaimer:
Submitters of product listings are solely responsible for their content. PRLog can't be held liable for the contents of the product listings.
Report Abuse