Acer AS09A31,AS09A41,E525,E625 11.1V 4400mAh batteries
Replacement for Acer AS09A31, AS09A41 laptop batteries
Contact | Link To Product | More Products By This Company
Images
Click on an image to see larger size image ...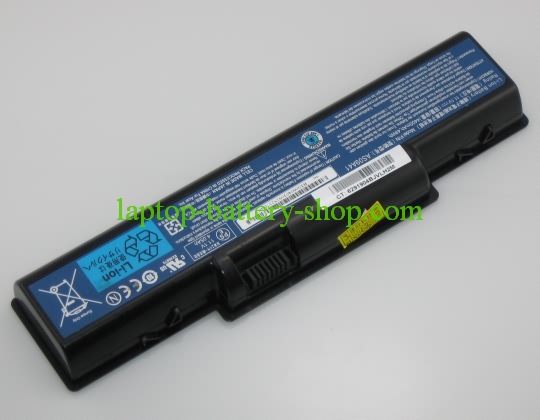 Specifications
| | | |
| --- | --- | --- |
| Battery rating | : | 11.1V |
| Battery capacity | : | 4400mAh (46Wh) |
| Battery cells | : | 6-cell |
| Type | : | rechargeable Li-ion replacement battery |
| Battery color | : | Black |
| Price | : | $64.70 |
Details
This laptop battery for:
Acer
AS09A31
AS09A41
AS09A56
AS09A61
AS09A71
AS09A73
AS09A75
AS09A90

This laptop battery fit for:
Acer
AS5517
AS5532
AS5732Z
Aspire 5516
Emachine
D525 Series
D725 Series
E-625
E625
eMG725
g725
Gateway
NV52 series
NV53 series
NV54 series
NV56 series
NV58 series
NV59 series
NV78
Packard bell
EasyNote TJ65

Then let us to learn How to Take Care of Your Laptop Battery

The problem with most laptop batteries is that they haven't been used properly by their owners. A lot of the issues with them can be avoided just by exercising a little more care and caution. This could not just improve your laptop battery's performance, but could also increase its life. Here we mention some of the things you should absolutely do in order to take care of your laptop or notebook battery.

1. Start being cautious about your laptop battery right when you purchase your laptop. Ask specific questions about what kind of battery it is, what its date of manufacture was and so on. You must make sure it is a lithium metal hydride battery-these are the best batteries for electronic products right now. Check the date as well-lithium metal hydride batteries can last for as many as 5 years without creating any problems. If necessary, ask the vendor to remove the battery and show you its manufacturing date imprinted on it.

2. Be careful when you are charging your battery. Never allow your battery to go down to complete zero charge, because then it needs to do added work to break the threshold and come back to an optimal level.

3. Similarly, it is not necessary to charge your battery to 100% all the time, except probably when you are charging. The most optimal charging range for your laptop battery is between 30 and 90%. Try not to go out of this range as much as you can.

4. While at home, remove the laptop battery and work directly through the AC mains. This will preserve battery life.Take note of these simple precautions. Your laptop battery life will be enhanced if you do.

laptop-battery-shop.com offers Accurate Quality laptop chargers serving customers in

DELAWARE, USA. We offer quality laptop parts. We carry DELL, HP, Toshiba, Sony, Acer Ac adapters, battery, memory upgrades and Wi-Fi wireless products. We do serve government and public institutions on purchase order.
Tags
ACER AS5517, AS5532, AS5732Z, D525, E625
Disclaimer:
Submitters of product listings are solely responsible for their content. PRLog can't be held liable for the contents of the product listings.
Report Abuse