3d photo laser crystal engraving machine
It have high speed and large engraving range, can also do 3d crystal mass production
Contact | More Products By This Company
Images
Click on an image to see larger size image ...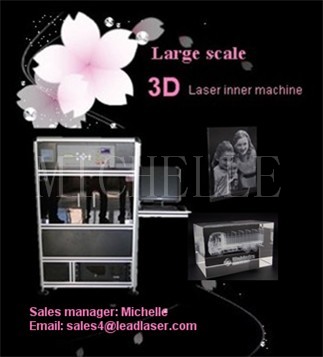 Specifications
| | | |
| --- | --- | --- |
| Laser Wavelength | : | 532 |
| Laser Frequency | : | 2 KHz |
| Maximum Speed | : | 80000-120000dots/min |
| Maximum Engraving Ran | : | 300*300*100mm |
| Control System | : | Galvanometer Scanner Technology |
| Weight of the whole | : | 190 Kg |
| Size of the whole mac | : | 890mm*920mm*1100mm |
Details
Function:
LD-EG-602B-2 Rapid Scanner Laser Subsurface engraving machine is new developed by our company, , It could work for a large scale production of 2D, 3D animals & plants, architectures, models such as car, boat, airplane etc, and 3D scene show, and also it could engraving the 3D relieve expression what transfer the normal clear-cut 2D photos, the image will be elaborate and lively, it suitable for network and chain management.

Advantage:
LD-EG-602B-2 Rapid Scanner Laser Subsurface Engraving Machine adopts the advanced galvanometer scanner technology together with 2 KHz diode-pumped YAG frequency doubling laser which is faster, the laser point is more thin and bright, the image also will be more elaborate and lively. The key parts of the apparatus mainly come from Germany and the USA. This machine has the software developed independently, which shall laser 2D image like 3D impression. It has original technology, and the engraving range is large. This machine is suitable for individual production and batch fast process. Just one machine could be satisfied with capacity for both storefronts network distribution and electric-business distribution.

For your information, 100Hz, 200 Hz, 2000Hz, 3000 Hz and 5000Hz, single head and multi-head, green laser and UV laser, water cooler and air cooler, max engraving range 3000*4000*100mm are all available. Moreover, as laser equipment manufacturer, we can customize for you, too. By the way, we have branch office in Shanghai, Shenzhen, Yiwu and own two factories to produce all kinds of crystals, LED bases etc.

My dear friend, welcome to contact us for further information, we will support you most competitive price and patient technical guide.

Contact Person: Michelle
Email/MSN: sales4 (at) leadlaser.com
Skype: leadlaser4
Mobile: +86 15871768028
Tags
laser engrave, inner engrave, 3d engrave, 3d mark, 3d etch, 3d etching, 3d portrait, portrait laser, portrait 3d, portrait
Disclaimer:
Submitters of product listings are solely responsible for their content. PRLog can't be held liable for the contents of the product listings.
Report Abuse