Koason CAR DVD GPS Navigation Player For HONDA CIVIC
Koason CAR DVD GPS Navigation Player For HONDA CIVIC
Contact | Link To Product | More Products By This Company
Images
Click on an image to see larger size image ...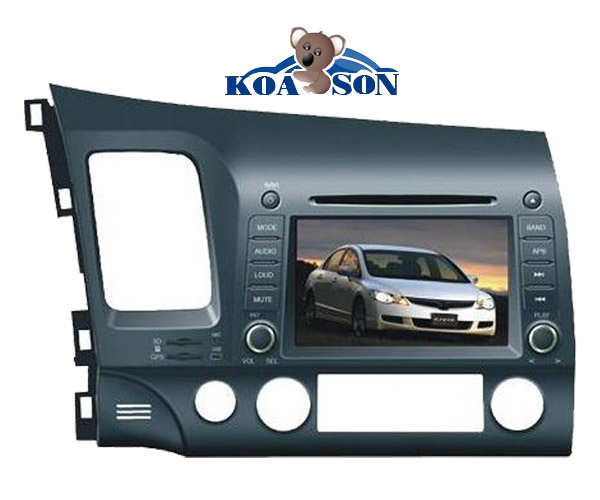 Specifications
| | | |
| --- | --- | --- |
| resolution | : | 800*400 |
| Bluetooth | : | A2DP |
| FM/AM | : | RDS |
| AUX | : | input/output |
| hi-fi amplifier | : | 52W*4 |
Details
1. 16:9 high definition 7"TFT LCD Digital touch screen,800*480.
2. Fixed panel design,screen's angle adjustable in dash installation with double din size.
3. Unique designed circuitry of standby function ensure the more durability of battery
4. Built-in Bluetooth/USB,SD
5. interface/DVD/FM/AM/TV/AV/IPOD/RDS function.
6. Built-in GPS,External Microphone/CDC function.
7. Full function touch button, picture in picture.
8. Detecting radar,rearview mirror available
9. Multi-function IR remote control and instruction manual included.
10.Compatibility with DVD,VCD,CD, MP4,MP3,CD-RRW etc.
11.Stable electronic-anti-shock and mechanical-anti-shock.
12.Automatic identification of PAL or NTSC or SCAN systems;All the operation available with remote controller and OSD displayed.
13.2 channel AV output,very easy to connect with external AV device and compose a perfect car AV entertainment system.
14.52 x 4W High power output.AUX input.
15.4 channels TV antenna input :receive good and stable TV program in the car.
16.Hand break detecting function,which switches off the TFT display automatically to ensure the safety during driving.
17.Auto switch to the backing car display status when backing a car,if external camera is available,the car rear status can be seen on the screen in real time to ensure the safety.
18.Auto detect the small light switch function:if the small light is on,the light of keys will be on and the TFT screen will switch to night mode automatically.
Tags
Disclaimer:
Submitters of product listings are solely responsible for their content. PRLog can't be held liable for the contents of the product listings.
Report Abuse