Binary LED Digital Fashion Watch NEW Wholesale
Binary LED Digital Fashion Watch NEW Wholesale Binary LED Digital Fashion Watch NEW Wholesale
Contact | Link To Product | More Products By This Company
Images
Click on an image to see larger size image ...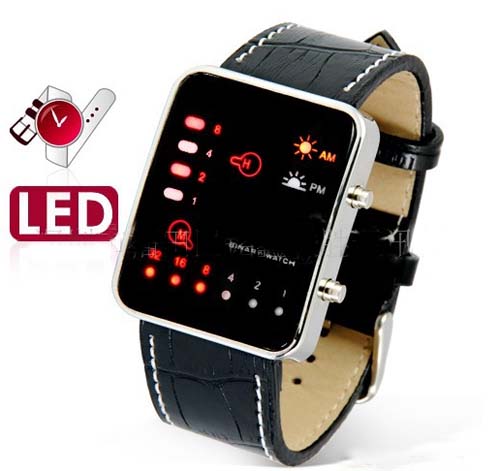 Specifications
| | | |
| --- | --- | --- |
| LED digital watch | : | LED digital watch |
| waterproof | : | waterproof |
| 100% Brand New | : | 100% Brand New |
| Band material | : | Leather |
| Case material | : | Stainless steel |
Details
Binary LED Digital Fashion Watch NEW Wholesale

This a LED digital watch, it's waterproof.

LED_Fashion_Watch_02.jpg

2 PCS CR2016 button batteries for this watch, please change battery when LED light turns dim.

Highlight LED displays time and date, it automatically display time every 15 minutes

how to set

press A or B button to see time.

switching to setting mode by pressing B button for two seconds。

Then you can switch mode by press B button, then change the time or date by pressing A.

Also have automatic time display function

press b to check out

LED_Fashion_Watch_03.jpg

Maintenance Tips

This is an energy saving LED watch which have a battery life of 6 to 12 months varying from different working conditions, Please change battery if the light turns dim

Please avoid collision with hard object, chemical exposure and magnetic field



Description:

100% Brand New

This is high-quality digital LED watch.

Standard display: hour, minute, Day & Date

LED_Fashion_Watch_04.jpg

Specifications:

Band material: Leather

Case material: Stainless steel

Case Size: 3 cm x 4 cm

Case thickness: 0.8 cm

Band length: 16-24 cm

Band width: 2 cm
Tags
Disclaimer:
Submitters of product listings are solely responsible for their content. PRLog can't be held liable for the contents of the product listings.
Report Abuse