Calendula Lip Balm Plus, 2 Jars
Multi-purpose 100% natural balm for lips, cuticles, dry knees, feet, even stops the itch of Mosquito bites! This little jar is a must-have all year round.
Contact | Link To Product | More Products By This Company
Images
Click on an image to see larger size image ...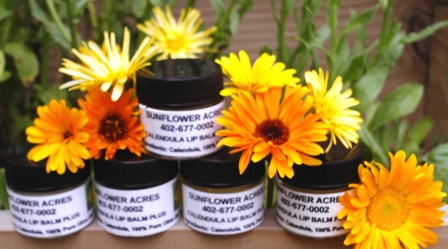 Specifications
| | | |
| --- | --- | --- |
| Ingredient | : | Olive oil |
| Use | : | multi-use |
| Benefit | : | softens skin |
| Feature | : | chemical-free |
Details
Calendula Flowers have been known for their healing & antibacterial properties for thousands of years.

Our Calendula Lip Balm Plus softens and heals dry, chapped lips, cuticles, elbows, knees, eczema, and stops the itch from Mosquito bites with 100% natural ingredients.

Calendula flowers are grown in eco-friendlygardens with no chemicals. The flower petals are infused in the sun with 100% pure Olive Oil for several weeks, then strained into pure locally grown organic beeswax and Vitamin E. Nothing else is added, no chemicals or preservatives.

Size: 2 quarter ounce jars (the size of a Carmex jar) We now have white jars with white lids. I loved the photo with the Calendula flowers to much to change it!

Store in a cool dry place such as a drawer or cabinet.

Order yours today!
We will ship anywhere in the world. Buyer is responsible for any customs fees or taxes. Please check to see if there will be any extra fees to ship to your country. No one likes surprises when they cost you money!
Tags
chapped lips, dry, ragged cuticles, lip balm, dry heels, calendula, softens skin, 2 jars balm
Disclaimer:
Submitters of product listings are solely responsible for their content. PRLog can't be held liable for the contents of the product listings.
Report Abuse