Calendula Intense Solid Lotion Bar
BEST SELLER! A large 3 ounce multi-purpose Intense moisturizing lotion bar for dry skin, Psoriasis, may be used on face, body and working hands.
Contact | Link To Product | More Products By This Company
Images
Click on an image to see larger size image ...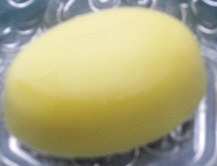 Specifications
| | | |
| --- | --- | --- |
| main ingredient | : | cocoa butter |
| ingredient | : | raw Shea Butter |
| feature | : | chemical-free |
| benefits | : | moisturizing |
| benefit | : | softens skin |
| uses | : | multi-use: face/whole body |
| skin types | : | dry/problem skin |
| size | : | 3 ounce |
Details
Our 3 oz. solid lotion bar, for intense healing is convenient to use, shaped in a smooth oval, and smell like Chocolate! What more could you ask for? No, you can't eat it! Just glide it on any dry areas, and rub it in.
This is our most popular product now, because of the intense moisture and protection it provides, the fact that it can be taken anywhere, it can't spill like lotions and oils, so there is no waste.
Keep one by the sink for dry, chapped hands after washing dishes, and one by the bed to use on dry cracked heels, knees or elbows, or put one in your purse to take with you when on the go. Just remember to keep away from heat.
Our Intense Lotion Bars are made from the finest natural healing ingredients available. Organic Food Grade Cocoa Butter, Pure Olive Oil infused with Calendula, Local Organic Beeswax, and Vitamin E. No chemicals or preservatives are used.
Your skin will love you for this, and you will love your skin!
Store in a cup in a cool place, they could melt. No problem it it should melt ... just set it in a cool place for about an hour, and it will be solid again.
Solid lotion bars are much easier and less messy to use than lotions.
May vary in color from creamy yellow to darker yellow, depending on the Cocoa Butter and Shea Butter.
Testimonials:
"I tried the Calendula Oil Lotion Bar, I love it!!! It is so much easier than bottles of lotion as I get more then I need, this is perfect with no waste. I get the same healing on my Psoriasis hands as using the Calendula Oil in this perfect bar. It will be so nice to travel with, no more worries of bottles leaking on my clothes. I know what to get all my friends for gifts this year!" Jayne. OH

"I really like it!!! My skin is really smooth and soft, which is hard to do as my skin gets really dry in the wintertime. I think I can wait a little longer on spring now!!" Pam, NE
We will ship anywhere in the world. Buyer is responsible for any customs fees or taxes. Please check to see if there will be any extra fees to ship to your country. No one likes surprises when they cost you money!
Tags
dry skin care, Psoriasis, aging skin care, dry skin, natural lotion bar, Wrinkles, softens skin, solid hand cream, solid foot cream
Disclaimer:
Submitters of product listings are solely responsible for their content. PRLog can't be held liable for the contents of the product listings.
Report Abuse