R4i gold Revolution
R4i gold funktioniert auf dem Nintendo DS, DSLite, DSi und DSixl. Die kannst die Wood FW benutzt, die immer schnell geupdatet wird.Jetzt ist die Wood R4i V1.23.
Contact | Link To Product | More Products By This Company
Images
Click on an image to see larger size image ...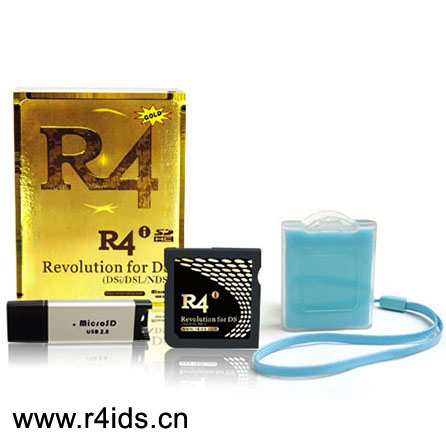 Specifications
| | | |
| --- | --- | --- |
| Kernel | : | Wood r4i |
| Flashkarte | : | Nintendo ds,dsl,dsi,dsixl |
| Weight | : | 150g |
| unterstützt | : | Spiele,Musik,Filme |
Details
Eigenschaften
-leiche Größe wie eine originale DSi Spielekarte
-Integriertes PassMe (KEINE Boot-Karte/Passcard etc. erforderlich)
-Verwendet microSD (TransFlash) Speicherkarte als Speichermedium
-Booten Sie bereinigte Speicherabbilder (können aus dem Internet heruntergeladen werden)
-Einfach zu verwenden: Ziehen Sie die Dateien auf die micro SD Karte und spielen Sie los
-Standardmäßige FAT Systemunterstützung
-Unterstützt unterschiedliche Geschwindigkeiten bei micro SD Karten
-Unterstützt HC Speicherkarten
-Aufrüstbare Firmware (OS / Bios / Kernel)
-Touchscreen Regelung und robuste Skinning-Unterstützung
-Kein Akku erforderlich, sichern Sie die Backup Datei direkt auf der micro SD Karte
-Homebrew-Support, IO-Bibliothek beim Start verfügbar
-Unterstützt WiFi, DS Rumble Pack und DS Browser
Tags
r4i gold, r4i, Flashkarte, nintendo dsi
Disclaimer:
Submitters of product listings are solely responsible for their content. PRLog can't be held liable for the contents of the product listings.
Report Abuse