Dell LA65NS0-00 AC Adapter
Input: AC100-240V (worldwide use) Output: DC19.5V 3.34A Power: 65W Outlet: 3-prong Connecter size: Internal Diameter: 5.0mm External Diameter: 7.4mm
Contact | Link To Product | More Products By This Company
Images
Click on an image to see larger size image ...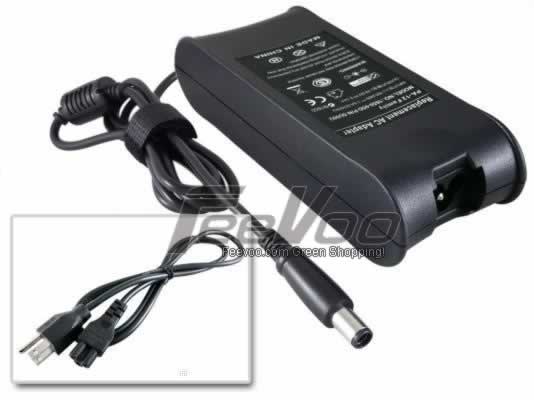 Specifications
| | | |
| --- | --- | --- |
| Input | : | AC100-240V (worldwide use) |
| Output | : | DC19.5V 3.34A |
| Power | : | 65W |
| Outlet | : | 3-prong |
| Internal Diameter | : | 5.0mm |
| External Diameter | : | 7.4mm |
| Item Includes | : | AC adapter and Power Cord |
Details
Input: AC100-240V (worldwide use)
Output: DC19.5V 3.34A
Power: 65W
Outlet: 3-prong
Connecter size:
Internal Diameter: 5.0mm
External Diameter: 7.4mm
With pin inside
Item Includes: AC adapter and Power Cord
Performance: Short Circuit Protection and Overload Protection
Condition: new
100%OEM compatible, guaranteed to meet or exceed OEM specifications!

How to maximize the performance of your laptop AC adapter:

Prevent the Memory Effect -Keep the laptop adapter healthy by fully charging and then fully discharging it at least once every two to three weeks. Exceptions to the rule are Li-Ion adapters which do not suffer from the memory effect.

Keep the laptop Adapters Clean - It's a good idea to clean dirty adapter contacts with a cotton swab and alcohol. This helps maintain a good connection between the adapter and the portable device.

Exercise the Adapter - Do not leave the adapter dormant for long periods of time. We recommend using the adapter at least once every two to three weeks.

If you don't plan on using the laptop adapter for a month or more, store it in a clean, dry, cool place away from heat and metal objects. NiCad, NiMH and Li-Ion adapters will self-discharge during storage; remember to recharge the adapters before use.

Selecting the correct Dell LA65NS0-00 AC Adapter For Your Laptop


When your Dell LA65NS0-00 AC Adapter is not working, you should consider purchase a new one for replacement.
Before purchasing a right Dell LA65NS0-00 AC Adapter, there are several things you should take into consideration.



Check the voltage & current of your original Dell AC Adapter. Turn your laptop over and look for a label, sticker or writing which shows the voltage and current, it should look something like the examples below. The voltage figure will have a "V" after the number i.e 19V and the current will have a "A" or "mA". i.e 3.15A. You can also find these shown on your original Dell LA65NS0-00 AC Adapter if you have it. The Voltage must be within 10% of your original Dell AC Adapter Voltage. The Amps may be higher but they cannot by lower. For example, If the wattage requirement for your laptop is lower than the 60W or 90W output of the adapter, it will not damage your laptop, your laptop will only take the amount of power it requires. If your laptop needs 45W, then either the 60W or 90W will work OK. If your laptop needs 80W then you will need the 90W one as the 75W one will not be powerful enough.
Make sure the connection fits the port in your computer where it is to be plugged in. The voltage and output current of the laptop adapter will not matter if it is not able to be connected. Usually, there are 2-prong and 3-prong for selection. If ordering online or if you do not have your computer, it is advisable to check this out as soon as possible.
If in doubt please email us on our contacts page.
Tags
dell, ac adapter, AC100-240V, DC19.5V 3.34A, 65W, 3-prong
Disclaimer:
Submitters of product listings are solely responsible for their content. PRLog can't be held liable for the contents of the product listings.
Report Abuse