Cathy Sparkle! Green Cleaning Cocktails Deluxe Kit
The Cathy Sparkle! Deluxe Kit is a complete green cleaning overhaul. Now make your own healthier cleaners with this fun, easy kit. Comes with recipe bottles, carry caddy, 5 pure essential oils, liquid Castile soap, cleaning towels and bristle brush.
Contact | Link To Product | More Products By This Company
Images
Click on an image to see larger size image ...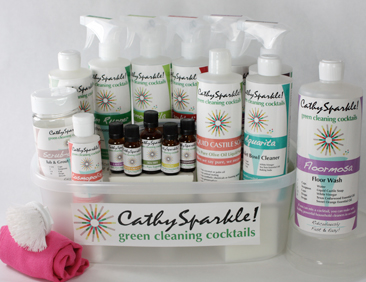 Specifications
| | | |
| --- | --- | --- |
| components | : | non toxic cleaning recipes |
| ingredients | : | pure essential oils |
Details
Cathy Sparkle! makes it fast, easy & fun to make your own safe, green, healthy household cleaners for every room and surface. We provide kits stocked with pure essential oils, all natural soap, and eco-friendly, reusable bottles with easy-to-follow recipes printed right on them. No thinking required! Just mix in a few simple household ingredients and voila! you've got an easier, greener, healthier way to clean!

The Cathy Sparkle! Deluxe Kit offers a complete household overhaul and includes all the green cleaning cocktails you'll need to clean every room in the house. It's your best solution for instant green cleaning gratification!

Inside the Deluxe Kit:
1 Large Carrying Caddy
16 oz spray bottle for Sparkletini (All Purpose)
16 oz spray bottle for On The Rocks (Counters & SS)
16 oz spray bottle for Lemonquila (Windows & Glass)
16 oz shaker bottle for Scrub-a-Colada (Tile & Tub Scrub)
16 oz squirt bottle for Sink Spritzer (Kitchen Sink Cleaner)
16 oz spray bottle for Bum Runner (Bathroom Cleaner)
16 oz squirt bottle for Aquarita (Toilet Bowl Cleaner)
16 oz spray bottle for Fuzziless Navel (Dusting Aid)
32 oz squirt bottle for Floormosa (Floor Wash)
4 oz bottle for Cosmopolish (Furniture Polish)
16 oz bottle of 100% Pure Liquid Castile Soap
.5 oz 100% Pure Lavender Essential Oil
.5 oz 100% Pure Lemon Essential Oil
.5 oz 100% Pure Sweet Orange Essential Oil
.5 oz 100% Pure Texas Cedarwood Essential Oil
1 oz 100% Pure Tea Tree Essential Oil
1 Lint-Free Huck Towel for Windows & Glass
1 Bristle Scrub Brush
Tags
household cleaners, green cleaning, eco-friendly clean, homemade cleaners, healthy home, natural cleaners, non toxic cleaning, Essential Oils, liquid castile soap
Disclaimer:
Submitters of product listings are solely responsible for their content. PRLog can't be held liable for the contents of the product listings.
Report Abuse