Canon BP-511A Digital Camera Battery 1400mAh
battery Type: Li-ion Voltage: 7.4v Capacity: 1400mAh Color: Grey Weight: 76.00 g Dimension: 55.10x38.20x21.00mm
Contact | Link To Product | More Products By This Company
Images
Click on an image to see larger size image ...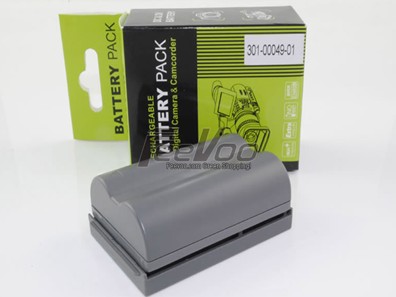 Specifications
| | | |
| --- | --- | --- |
| battery Type | : | Li-ion |
| Voltage | : | 7.4v |
| Capacity | : | 1400mAh |
| Color | : | Grey |
| Weight | : | 76.00 g |
| Dimension | : | 55.10x38.20x21.00mm |
| Product Type | : | Replacement battery (Brand New) |
| Condition | : | New, 1 year warranty |
| Product Condition | : | Brand New in Bulk Packaging. OEM Equivalent Replace |
Details
battery Type: Li-ion
Voltage: 7.4v
Capacity: 1400mAh
Color: Grey
Weight: 76.00 g
Dimension: 55.10x38.20x21.00mm
Product Type: Replacement battery (Brand New)
Condition: New, 1 year warranty!
Product Condition: Brand New in Bulk Packaging. OEM Equivalent Replacement Part.
Ultra High Power, No Memory Effect .
Compatible Part Number:
CANON:,3055A002,3055A003AA,6760A002,6760A003AA,BP-1267FPLS,BP-508,BP-511,BP-511A,BP-512,BP-514,D851112201,D851122201,VCN008,VCN008S,
BTI,BTI-CN511,BTI-CN512,
CTA,DB-BP511,
DELKIN,DD/BP-511,
DIGIPOWER,BP-CN511,
DTI,ELECTRONICS,DTL-511C,
DURACELL,DRC511,DRC511RES,
EMPIRE,BLI-193,
ENERGIZER,B0001GMIOE,ER-C590,
Compatible Model No:
CANON DM-FV300 KIT, DM-FV40 KIT, DM-MV100Xi, DM-MV30, DM-MV30i, DM-MV400, DM-MV400I, DM-MV430, DM-MV450, DM-MV450I, DM-MV600, DM-MVX1I
CANON EOS 10D, 20D, 300D, 30D, 40D, 50D, 5D, D30, D60, Kiss Digital
CANON FV10, FV100, FV200, FV30, FV30, FV300, FV40, FV40, FV50
CANON FVM1, FVM10
CANON G-1
CANON IXY DVM
CANON MV X1I, MV-30, MV-430IMC, MV-X3i, MV100, MV100XI, MV300, MV300I, MV400, MV400I, MV430I, MV450i, MV500, MV500I, MV530I, MV550I, MV600, MV600I, MV630i, MV700, MV700I, MV750I
CANON OPTURA 10 100MC 20 200MC 50MC PI Pi XI Xi
CANON POWERSHOT G1, G2, G3, G4, G5, G6, PRO 1, PRO 90 IS
CANON PV130
CANON ZR-10, ZR-20, ZR-25MC, ZR-30, ZR-30MC, ZR-40, ZR-45MC, ZR-50MC, ZR-60, ZR-65MC, ZR-70MC, ZR-80, ZR-85, ZR-90

Warranty & Shipment

Canon BP-511A Digital Camera Battery 1400mAh enjoys full 12 months warranty;
FeeVoo offers the most complete product information and photo galleries available.
All the products selling in FeeVoo are highest-quality &lowest-possible prices guarantee.
PayPal is strongly recommended payment here;
Orders would be sent out within 1-2 business day after the payment verified;
Tracking number will sent to you as soon as the package shipped out;
Customers usually could receive the order within 2-5 days;
Local pick-up is unavailable at this moment (a batch of orders processing everyday).
Service

All the order/payment process are confirmed to be safe in FeeVoo;
Full refund will be offered for any orders at our fault;
We are not responsible for any wrong/undeliverable addresses;
RMA# is needed for any return package(which you could email us and get it);
The FeeVoo Service Team is ready to help you out for any FeeVoo related problems;
Tags
Canon, BP-511A, Digital, camera, Battery, 1400mAh, Replacement Battery, 1 year warranty, 7.4v, Li-ion
Disclaimer:
Submitters of product listings are solely responsible for their content. PRLog can't be held liable for the contents of the product listings.
Report Abuse