Samsung Blu-Ray Remote Control AK59-00104R for BD-C6900 BD-C5500 BD-C5900
The Samsung AK59-00104R Remote Control allows easy operation for your compatible Samsung Blu-Ray Player. The Samsung AK59-00104R is perfect if you lose the one that was included with your unit or if you're in need of an additional remote
Contact | Link To Product | More Products By This Company
Images
Click on an image to see larger size image ...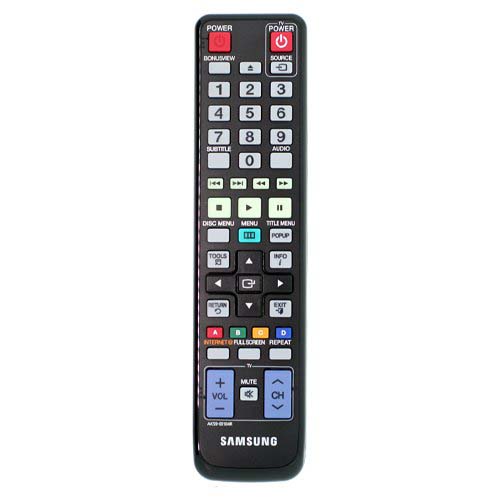 Specifications
| | | |
| --- | --- | --- |
| Features1 | : | EAN 0014642919309 |
| Features2 | : | Manufacturer Samsung |
| Features3 | : | Model AK59-00104R |
| Features4 | : | MPN AK59-00104R |
| Features5 | : | Product Group CE |
Details
Part of me was expecting Samsung's first Blu-ray 3D Player, the BD-C6900, to be, y'know, deeper. Or wider, or heavier, or something, considering the large stride forward that the addition of a whole new dimension represents. I could hardly believe that this unobtrusive--and pretty slick--little enclosure could yield the marvels it promised, but I'd find out soon enough. Yes, the hardware is compact with a translucent top that not only glows with a wicked-cool blue, it also serves the practical purpose of letting us see which disc is currently in the tray. Perhaps the only downsides of this bold, lean esthetic are the audible noise level, which is higher than some players I've tested, and the potential for scratches, although none appeared during its visit here.

At first boot-up we are greeted by an entirely new menu system, user-friendly and icon driven, with ample shortcut keys on the redesigned remote control and different ways to organize various media, making the experience more personalized. Even the final look can be customized with an assortment of pre-loaded changeable skins. The BD-C6900 is BD-ROM Profile 2.0 compliant, meaning it can do BD-Live--with a gigabyte of flash memory built-in, no plug-in thumb drive or card needed--as well as Bonus View, but that's just the beginning.

Under the (Translucent) Hood

The player provides built-in single-band 802.11n Wi-Fi with no dongle required and no antenna protruding anywhere. The wireless setup initially encountered some difficulties finding its way online via my Apple AirPort Extreme Base Station with 802.11n, but a quick adjustment to my security settings and we got along just fine from then on. I also tested it wired, which linked up flawlessly. A firmware upgrade was instantly available to me, and upon clicking through that sweet new user interface, I was invited to initiate the recently upgraded Internet@TV Content Service, the portal to the impressive-and-growing collection of new Samsung Apps for the Blu-ray player.


BDP6900-angle-WEB.jpg
The translucent lid lets the nifty blue glow peek out, while allowing the disc label to be read.

The deck arrives as a blank canvas, with no pre-installed software applications, and with just a few clicks the service began filling in the empty windows which list our available features. Fifteen interesting pre-selected options downloaded and installed in about seven minutes, including always-welcome home theater staples like VUDU and Netflix, mixed with an unexpected handful of games: Rock Swap Adventures, Texas Hold 'Em and Dracula's Coffin. Samsung Apps will be open-source, meaning that developers will be welcome to create paid and unpaid content for users in the future.

Last year's Blu-ray players offered Windows File Sharing technology to allow us to access media files on a connected computer, but due to the complexities involved in actually getting PC Streaming to work, Samsung opted instead for standard DLNA compliance this time around. This seems to be working out well as Samsung's AllShare function was easily able to locate my home network, and after I approved the connection back on my PC, my media library was fully accessible right from the BD-C6900's menu.

To achieve 3D playback, the BD-C6900 packs an advanced, extremely powerful processor, which Samsung claims benefits overall video performance. In addition to Samsung's Anynet+ variety of HDMI-CEC interconnectivity, which supports handy features such as TV/Blu-ray power-up/off with a single touch of one supported remote, this Blu-ray player offers BD Wise, which optimizes the connection and settings between display and player, based on the capabilities of each. This may mean that the player sets itself to 480p output for DVDs but to 1080i or 1080p on Blu-ray Discs, depending on their content, allowing the TV to do the video processing where necessary. Other manufacturers call this feature "Source Direct."

But because BD Wise mode passes the video processing tasks to the display rather than the player, we did not use this mode for evaluation of the player's video processing. And although we also have the 55-inch C8000 3D LED TV on-hand (review forthcoming), we conducted most of our critical 2D evaluation tests on our reference Samsung HL-T5087S TV rather than try to judge one new product connected to another new product. During the tests, we set the player's output to 1080p, to ensure that the results we were seeing were being rendered by the player.

As 3D-philes have been aware, the move to this new generation in home video has necessitated the next step forward for HDMI, namely 1.4, to accommodate the higher bandwidth of the 3D video signal standard as well as an audio return path. The one and only HDMI port on the BD-C6900 is 1.4, and as such there will be incompatibility with the video pass-through of older HDMI A/V receivers. Put simply, if you run your Blu-ray player though the receiver and then out to the TV (as I do), don't expect the 3D to work, although the audio connectivity and 2D pass-through with my 2008-model Onkyo TX-SR606 were exemplary. Competing models such as the Panasonic DMP-BDT350 3D Blu-ray player offer two HDMI outs--one 1.3 for the receiver and one 1.4 for the TV--to address this quandary. Have a multichannel receiver with no HDMI inputs? No worries: The BD-C6900 also includes 7.1 analog audio outs to go with the onboard decoding of all the current HD audio formats. Your other option would be using the player's optical (S/PDIF) digital output for sound but this will limit you to the lossy and legacy codecs (DTS, Dolby Digital and 2-channel PCM).


BD-C6900-back-panel-WEB.jpg
The HDMI output of the BD-C6900 is version 1.4, but the 7.1 analog audio outs are an impressive option.

One of the call-outs on the box touts "Ultra Fast Play" so I put it to the test: The first-round (non-BD-Java) Blu-ray Underworld: Evolution started in 23 seconds from the time I pressed Play, same as the LG BD570 I recently reviewed. The Gladiator DVD needed 11 seconds, which is fine, but the real eyebrow-raiser was the BD-Java bit-buster Pirates of the Caribbean: Curse of the Black Pearl which took but 18 seconds to start. "Ultra Fast" indeed!

Boot-up time is eight seconds, from power off to the appearance of the menu screen with musical tone and "No Disc" on the front panel. Saw VI supports Lionsgate's cool-but-cumbersome "LG LIVE" suite of online features, which pings the server for an update whenever it's loaded, requiring 41 seconds until the studio logo animation first appeared, besting the load time of my go-to PlayStation 3 by 16 seconds. These are the standard times for the BD-C6900, there are no special "Fast Play" or "Quick Start" on/off settings. And they're right up there with the quickest players on the market.
Tags
Samsung Blu-Ray, remote control, accorlin
Disclaimer:
Submitters of product listings are solely responsible for their content. PRLog can't be held liable for the contents of the product listings.
Report Abuse