New Bluedio AV X6 wireless Stereo Bluetooth Headset
Bluedio AV X6 wireless Stereo Bluetooth Headset Professional Clip-on Slim Design bluetooth Stereo headset AV X6
Contact | Link To Product | More Products By This Company
Images
Click on an image to see larger size image ...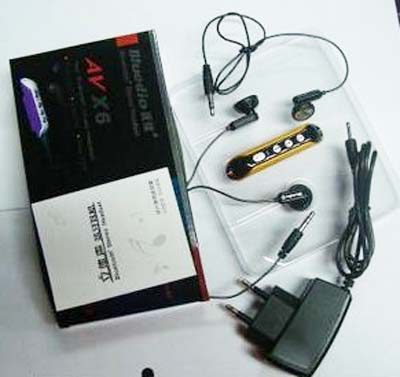 Specifications
| | | |
| --- | --- | --- |
| Features1 | : | LED Flash Indicator |
| Features2 | : | Extraordinary Multi-functional Buttons |
| Features3 | : | Detachable Earpiece for Easy Replacement |
| Features4 | : | Brand New and High Quality |
| Features5 | : | Excellent ISSC controller |
Details
New Bluedio AV X6 wireless Stereo Bluetooth Headset

#www.earthbabycart.com/new-bluedio-av-x6-wireless-stereo-bluetooth-headset_p897.html

Bluedio_AV_X6_wireless_Stereo1.jpg

Bluedio AV X6 wireless Stereo Bluetooth Headset
Professional Clip-on Slim Design bluetooth Stereo headset AV X6
LED Flash Indicator
Extraordinary Multi-functional Buttons
Detachable Earpiece for Easy Replacement
Support other Bluetooth enable Devices such as PC, MP3's or iPod
Automatic switch to Phone mode when incoming calls
Product Description
Brand New and High Quality
Excellent ISSC controller
clip-on design, excellent for business and traveling
Extraordinary multi-functional buttons
Class 2 Operation

Bluedio_AV_X6_wireless_Stereo2.jpg
Talk Time : 6 hours
Standby Time : 100hrs
Transmission distance: 10M
Supports Voice Dialing
Comes with one 3.5mm detachable stereo handsfree and one one 3.5mm detachable mono handsfree
True Stereo Sound
Compatible with most mobile/cellular phone with built-in bluetooth function
Compatible with all computer with Bluetooth function enabled as a wireless mic and earphone ATTENTION!!!
Tags
Bluedio AV X6, accorlin, wireless Stereo
Disclaimer:
Submitters of product listings are solely responsible for their content. PRLog can't be held liable for the contents of the product listings.
Report Abuse