PS3 Or XBOX360 MONSTER Optical audio cable monster game series
Not every optical cable has the technology and construction required to deliver maximum PLAYSTATION 3 surround sound without digital jitter and loss of audio clarity. And that matters to serious gamer
Contact | Link To Product | More Products By This Company
Images
Click on an image to see larger size image ...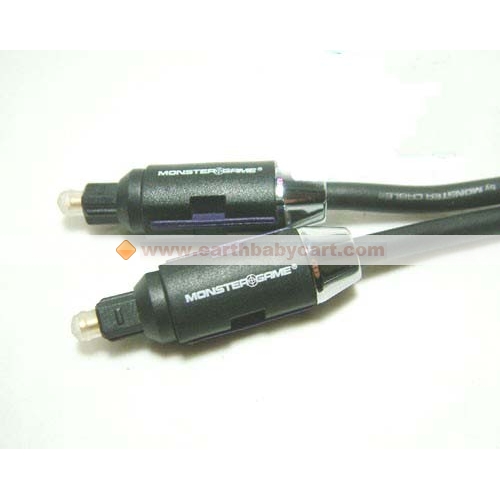 Specifications
| | | |
| --- | --- | --- |
| Features1 | : | Blu-ray Disc™ Movies |
| Features2 | : | with Immersive Digital Surround Sound |
| Features3 | : | Advanced Technology |
| Features4 | : | Best Digital Audio Performance |
| Features5 | : | music and dialogue |
Details
PS3 Or XBOX360 MONSTER Optical audio cable monster game series

#www.earthbabycart.com/ps3-or-xbox360-monster-optical-audio-cable-monster-game-series_p873.html

Experience PLAYSTATION®3 Games and Blu-ray Disc™ Movies with Immersive Digital Surround Sound

MONSTEROpticalaudiocable.jpg

SurroundMaximum Surround Sound for Game Play that Rises Above the Ordinary
Not every optical cable has the technology and construction required to deliver maximum PLAYSTATION 3 surround sound without digital jitter and loss of audio clarity. And that matters to serious gamers. They know seeing and hearing every detail can mean the difference between game on and game over. That's why PS3 gamers who want the edge choose Monster GameLink™ Fiber Optic Digital Audio.

HDR_Game_PS3_FO_speakers.jpg

Advanced Technology for the Best Digital Audio Performance from Your PS3
Monster GameLink features specially tuned fiber and precision-polished fiber terminations for the most accurate reproduction of sound effects, music and dialogue in your games and movies. Plus, ourInsulight™ jacket limits internal reflections that can cause jitter and sonic distortion. Don't just play your games. Experience them in maximum surround sound with Monster GameLink Fiber Optic Digital Audio.
Tags
audio cable, MONSTER, accorlin
Disclaimer:
Submitters of product listings are solely responsible for their content. PRLog can't be held liable for the contents of the product listings.
Report Abuse