Flight Simulator Planes
Most realistic flight simulator with over 120 types of aircraft and real world wide scenery
Contact | Link To Product | More Products By This Company
Images
Click on an image to see larger size image ...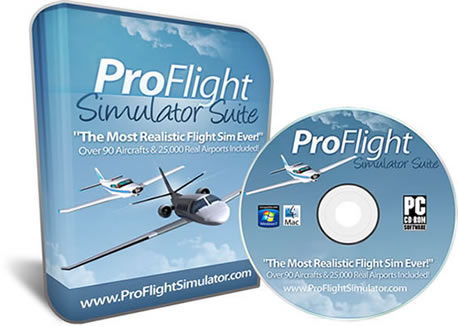 Specifications
| | | |
| --- | --- | --- |
| Game | : | Flight Simulator |
| Software | : | PC/Mac |
| Controls | : | Joystick/Keyboard |
| Aircraft | : | 120 |
| Airports | : | 20000 |
| Scenery | : | World Wide |
Details
Experience "Real Life" Flying
Most Realistic Flight Simulator
Over 120 Different Aircraft
20,000 Real Airports
Amazing World Wide Scenery
Full Support for Windows and Mac
100% Free Updates/Upgrades

This computerised game system is so realistic, it allows anyone to sit at home and experience the feeling of sitting in an aircraft cockpit and flying a plane. So, for those of us who really want to feel they are flying, then using a FLIGHT SIMULATION system is the answer.

Imagine taking to the air in a variety of aircraft from light planes, to airliners, to military aircraft, to helicopters and having the choice to fly anywhere in the whole wide world. Imagine sitting in a realistic 3D cockpit that gives you complete control of the aircraft!

You can even programme yourself to patrol the skies in your state of the art fighter aircraft in defence of your country or perhaps pilot a 747 with a full passenger list any where you fancy in the world or even take off on a hazardous flight in a helicopter ambulance on a mercy mission.

Why not take your family on a pleasure flight to admire the countryside or even a night flight to see the world from above.

There are so many variations on what can be enjoyed and are possible through Flight Simulation.
Tags
Flight simulator, Pro flight, Simulator planes
Disclaimer:
Submitters of product listings are solely responsible for their content. PRLog can't be held liable for the contents of the product listings.
Report Abuse