PackTite Portable Heating Unit
Portable Heater Kills All Stages of Bed Bugs, and Eliminates "Stowaway" Bed Bugs from Your Luggage.
Contact | Link To Product | More Products By This Company
Images
Click on an image to see larger size image ...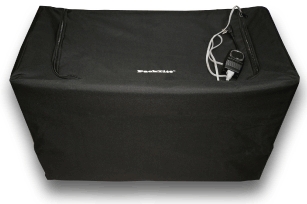 Video
Specifications
| | | |
| --- | --- | --- |
| Assembly | : | Just a few simple steps and PackTite™ is ready |
| Dimensions | : | 36" W x 19" L x 24" H. (Folds to 11" H for storage) |
| Material | : | Outer cover is removable and washable |
| Thermal Specification | : | Reaches 120 degrees Fahrenheit |
| Timer | : | Indicates when 60 minutes have passed |
Details
PackTite™ Portable Heater uses patent pending heating technology to safely eliminate all stages of bed bugs by heating contents up to over 120ºF for a sustained period. PackTite™ is a safe, non-chemical way to treat your personal items for bedbugs and features a timer to select heating times of up to six hours.

PackTite™ is designed to work as a preventive measure for travelers, especially frequent business travelers. Many hotels have low-level bed bug infestations that are very hard to detect by visual inspection. Careful travelers can place their luggage in the PackTite™ heater upon returning from a trip and PackTite™ will kill any bed bugs that have crawled into the luggage. Additionally, Packtite™ is an essential tool for those dealing with an active bed bug infestation in their home. Many items can not be placed in a dryer to kill bed bugs, such as shoes, dry-clean only clothes, sleeping bags, toys, etc... PackTite™ is the perfect pesticide-free way to gently rid your belongings of bed bugs!
Tags
PackTite, travel, heater, bedbug, bedbugs, portable, usbedbugs.com, non-chemical, heat, infestation
Disclaimer:
Submitters of product listings are solely responsible for their content. PRLog can't be held liable for the contents of the product listings.
Report Abuse