HOMDECOR LED light EVA gift/cute christmas tree ornaments snowman
This section of Santa Claus modelling`s baby was just went on the market, it used the environmental protection the EVA material quality to make, outside has provided the hat and the scarf
Contact | Link To Product | More Products By This Company
Images
Click on an image to see larger size image ...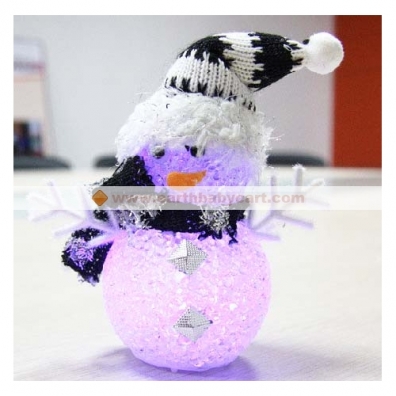 Specifications
| | | |
| --- | --- | --- |
| Size :(Approx) | : | 3.8"*3.8"*6.3" |
| Weight: (Approx) | : | 160 g/pc |
| Material: | : | EVA |
| Title | : | The LED snowman |
| Color | : | White,pink |
Details
HOMDECOR LED light EVA gift/cute christmas tree ornaments snowman

#www.earthbabycart.com/homdecor-led-light-eva-giftcute-christmas-tree-ornaments-snowman_p816.html

christmasgiftsnowman1.jpg

Chirstmas day is coming!

This section of Santa Claus modelling`s baby was just went on the market, it used the environmental protection the EVA material quality to make, outside has provided the hat and the scarf, but also had the plush microcheiria, the personification manner indication let the human be unable to put down, although the stature small the ability was very actually big, the biggest luminescent spot lay in it to have the illumination function, the foundation internal embedded button battery is its energy origin, so long as we extracted the base the fillet certainly, after turning on the switch, it might glitter the ray, it had the tricolor circulation twinkle function, placed the dark places to be possible to give the visual impact which the human dazzled very much, because has used the button battery, thereforeMay get rid of the electric wire

christmasgiftsnowman2.jpg

The LED snowman

HOMDECOR LED light EVA gift/cute christmas tree ornaments snowman

christmasgiftsnowman3.jpg

Size :(Approx) 3.8"*3.8"*6.3"

Weight: (Approx) 160 g/pc

Quantity: 1 pc

Material: EVA

1mm=0.0394 inch,1 inch=25.4 mm
Tags
christmas tree, ornaments snowman, Christmas gifts
Disclaimer:
Submitters of product listings are solely responsible for their content. PRLog can't be held liable for the contents of the product listings.
Report Abuse