Diamond Initial Pendant O in 9K White Gold
Stylish 9K white gold 'O' initial pendant,set with 0.11ct diamonds.
Contact | Link To Product | More Products By This Company
Images
Click on an image to see larger size image ...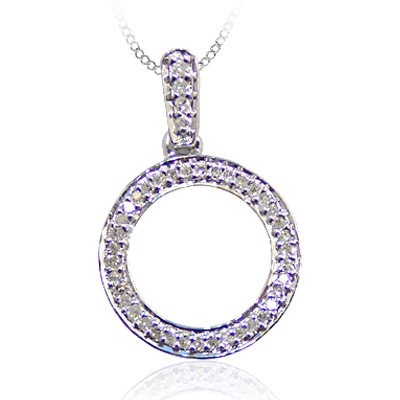 Specifications
| | | |
| --- | --- | --- |
| Product ref | : | D900539DJ |
| Metal type | : | 9K White Gold |
| Gem Type | : | Diamonds |
| Carat weight | : | 0.11 ct |
| Cut | : | Brilliant |
| Clarity/Colour | : | White Colourless |
| Setting | : | Claw |
Details
Our lovely personalized outstanding collection of diamond initial pendants is perfect present for every occasion. We have varieties of Diamond Initial Pendants with exceptional value which is perfectly suitable for your gift. We offer you great variety of sparkling dazzling styles of letter pendants with simple and fancy designs which adds a personalised touch to your gift. All our initials are set with nicely cut diamonds- single stone pendants and pave set diamond initial pendants. They act as a perfect Diamond Gift Set for someone you love and adore. Each Diamond Initial Pendant comes in a beautiful presentation box.

RRP: £165.00
Price: £65.00 (previously £89.00)

Stylish 9K white gold 'O' initial pendant,set with 0.11ct diamonds.The approximate dimensions are L19mm x W12mm.

You will receive a free gift with every purchase of £150 or more.

The Chain Is Not Included

Next Day Delivery (Subject to T&C)

The most important aspect of your personality is your name. Your "name" offer you identity in the society. People like to wear such kind of jewellery which symbolizes their "Name". Initial pendant means first letter of your name. Initial Pendant is dynamic attention grabbing jewellery - now an extension of who you are. Initalized or other personalized jewelery is a sweet gift that can be given to virtually anyone. The gift is both sentimental and fasionable. Diamonds UK brings you unique collection of Diamond initial pendants aimed at today's generation, who desires to look with versatility, style and elegance. Now the trend has changed and designers play with designs. Initial pendant is also choice of various celebrities and pop stars. Initial pendants are available in white gold and yellow gold metal. You can find initial pendants set with diamonds in various styles and patterns which enhance your personality. If you are looking for a gift with personal touch Diamond initial pendants are right choices for you.
Tags
Diamond, Initial Pendant, 9K White Gold, gold, Free Gift
Disclaimer:
Submitters of product listings are solely responsible for their content. PRLog can't be held liable for the contents of the product listings.
Report Abuse