Wii Remote Controller and Nunchuk Black
Hook the Nunchuk up to your Wii Remote controller via the external extension connector for even more flexibility in compatible games. The Nunchuk has similar motion-sensing technology to the Wii Remote controller
Contact | Link To Product | More Products By This Company
Images
Click on an image to see larger size image ...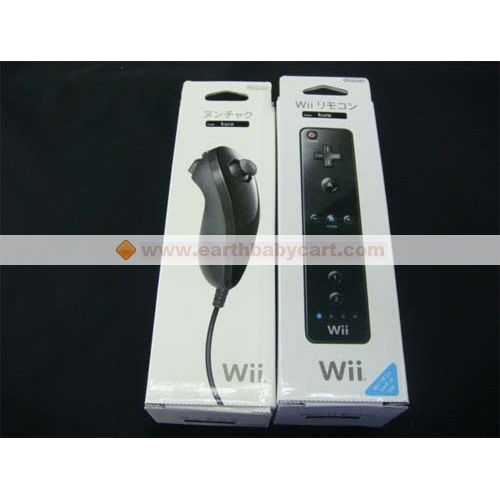 Specifications
| | | |
| --- | --- | --- |
| Include | : | Remote Controller |
| Another | : | Nunchuk |
| Featured | : | packs a speaker |
| Adaptation | : | Wii |
| Color | : | Pink |
Details
Wii Remote Controller and Nunchuk Black

www.earthbabycart.com/Wii-Remote-Controller-and-Nunchuk-Black_p801.html

Wii Remote Controller

With the Wii Remote controller, gaming becomes accessible to everyone. Thanks to advanced motion-sensing technology, game control is as easy as swinging a tennis racket, or steering a wheel. The Wii Remote controller also packs a speaker, rumble feature, and external connector for other input devices, like the Nunchuk and the Classic Controller

nunchukandremoteblack1.jpg

wii Nunchuk

Hook the Nunchuk up to your Wii Remote controller via the external extension connector for even more flexibility in compatible games. The Nunchuk has similar motion-sensing technology to the Wii Remote controller, along with two buttons and a Control Stick. This allows you to move characters around while performing more specific actions with the Wii Remote controller.
Tags
remote controller, wii Nunchuk
Disclaimer:
Submitters of product listings are solely responsible for their content. PRLog can't be held liable for the contents of the product listings.
Report Abuse