DISC PLOUGH
disc plough working width:900mm total weight:390kg fitted power:55-80hp
Contact | More Products By This Company
Images
Click on an image to see larger size image ...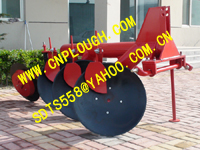 Specifications
| | | |
| --- | --- | --- |
| WORKING WIDHT | : | 900MM |
| WORKING DEPTH | : | 250-300MM |
| TOTAL WEIGHT | : | 390KG |
| FITTED POWER | : | 55-80HP |
| DISC QTY | : | 3PCS |
Details
DISC PLOUGH
working width:900mm
working depth:250mm
total weight:390kg
fitted power:55-80hp
linkage:3-point suspension
The machine is completely mounted with tractor, during operation, the discs by its rotating to turn the soil, particularly, it is suitable for operation on the field with grasses, straw and stems of crops or plants, big soil resistance and with many stones and brickbat, etc. in the field. It is good at cutting the grasses and straw and free from stopped by the grasses, soil or stones, etc. According to the structure ,it can be divided into different forms of 1LY (T) series; 1LY series; 1LYX series; 1LY (SX) series.
Tags
DISC PLOUGH, DISK PLOW, DISC PLOW, plow, PLOUGH, tractor implement
Disclaimer:
Submitters of product listings are solely responsible for their content. PRLog can't be held liable for the contents of the product listings.
Report Abuse