disc harrow
Disc Harrow 1BZ-3.4 working width:3400mm working depth:180-200mm discs:32pcs fitted power:120-150hp
Contact | More Products By This Company
Images
Click on an image to see larger size image ...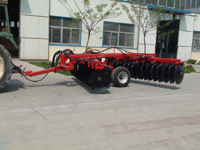 Specifications
| | | |
| --- | --- | --- |
| working width | : | 3400mm |
| working depth | : | 180-220 |
| fitted power | : | 120-150hp |
| disc qty | : | 32pcs |
| disc diameter | : | 660mm |
Details
Disc Harrow 1BZ-3.4(specially design to add two cylinders to adjust the angles)
The machine is suitable for cleaning crop residues before tillage on the virgin land and heavy clay soil and crushing clods after tillage. On the cultivated land, it can be used as the plough for the initial cultivation, however on the uncultivated land , the first harrowing depth can be up to 180mm. After harrowing, the land surface is smooth , the soil clods and crop residues are well crushed. It is easy to be mounted and adjusted, free to reverse , and convenient for transportation.
working width:3400mm
working depth:180-200mm
discs:32pcs
disc diameter :660mm
fitted power120-150hp
linkage trailed
Tags
disc harrow, disk harrow, harrow, farm implement, tractor implement, farm machines, agricultural tools
Disclaimer:
Submitters of product listings are solely responsible for their content. PRLog can't be held liable for the contents of the product listings.
Report Abuse