R4i SDHC R4iSDHC V2.0 Red Happy Box For NDS/NDSL/NDSi LL XL
-Brand new mod chip firmware upgrade, dual coreware IC performance has been up 50%, faster,more stable and more compatible. This will bring you the new NDS experience;
Contact | Link To Product | More Products By This Company
Images
Click on an image to see larger size image ...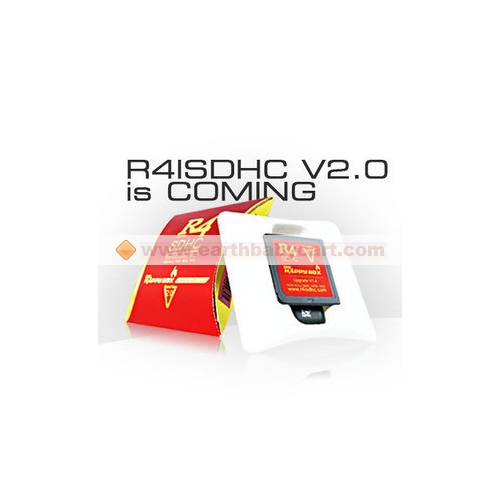 Specifications
| | | |
| --- | --- | --- |
| color | : | RED |
| Support | : | soft reset. |
| DLDI | : | auto-patching. |
| Modle | : | 2.0 Beta version |
| Compatible with | : | ndsi |
Details
R4i SDHC R4iSDHC V2.0 Red Happy Box For NDS/NDSL/NDSi LL XL

www.earthbabycart.com/r4i-sdhc-r4isdhc-v20-red-happy-box-for-ndsndslndsi-ll-xl_p786.html

HAPPYBOX-R4i-SDHC1.jpg

R4i V2.0

-R4iSDHC DS HAPPYBOX VERSION is fully compatible with NDSI LL / NDSI / NDSL NDS;

-Brand new mod chip firmware upgrade, dual coreware IC performance has been up 50%, faster,more stable and more compatible. This will bring you the new NDS experience;

-Get rid of the traditional packaging, this latest packaging has a glory, funny and lighter appearance.Just for the R4 new experience in 2010;

-Strong developed team to make sure weekly kernel update, promise 100% compatible with the latest games
Product Description

compatible141.png

Please download system file before using the product:
www.r4isdhc.com

Alternative download:
NEW Firmware V2.0.10B: Click Here
9DS HappyBox V2.0 Beta: Click Here
The game saving issue has been solved by the latest firmware V2.0.10B

HAPPYBOX-R4i-SDHC2.jpg

- Able to memorize and restore to the previously selected game or application after restarting machine and soft reset.
- Sleep mode function, for power saving and longer standby time.
- Multi-languages are optional, they are Simplified Chinese, TraditionalChinese, English, Japanese, French, German, Italian, Spainish and Dutch.
- Friendly interface, easy to operate.
- Realtime smart help windows.
- Integrated the latest Moonshell 2.0 Beta version.
- Game compatibility: 100%.
- No need to flash. Built-in launch Slot-2 (gba) function.
- Support SDHC micro sd cards (4GB 8GB 16GB 32GB).
- Support DMA read and no lag while using any microSD card.
- Support FAT16 and FAT32. Files can be transferred with PC, PDA, Cellphone and Camera.
- Support clean rom and drag-drop to play. Fast loading.
- Support NDS and iDS games. DS games can run on any DS versions.
- Files are to be saved directly to TF card, copy or restoration is not required.
- Automatically recognise saved new game types, no need to update the database.
- Support moonshell and home brew.
- Power saving design. Enter optimized mode automatically.
- Double screen UI, abbreviated picture and game title display, button and touch operations.
- Easy to use, setting or adjustment is not required.
- Support Wi-Fi, rumble pack and browser expansion.
- UI background can be changed.
- 4-level brightness adjustment.
- Support soft reset.
- Support AR cheat code.
- Support soft-reset of moonshell 2.0 (back to main menu of R4 NDSI by pressing START button).
- DLDI auto-patching.
- Support Download play.
- Pack red applepie

HAPPYBOX-R4i-SDHC3.jpg

HAPPYBOX-R4i-SDHC4.jpg

Package includes:
1-R4i SDHC adapter for DS/DS Lite/DSi/DSiXL (V2.0) (Red Happy Box)

HAPPYBOX-R4i-SDHC5.jpg

Note: Users please log on the website printed in the package to update your system by the on-line user manual, and download the Firmware.
Tags
Disclaimer:
Submitters of product listings are solely responsible for their content. PRLog can't be held liable for the contents of the product listings.
Report Abuse