32GB iPhone 4 Battery Back Door Assembly White
Battery Back Door Assembly for Apple iPhone 4 32GB White, This iPhone 4 Back Battery Door for your Apple iPhone 4 and the perfect solution to fixing your bad, damage or scratched iPhone 4 Battery Back Cover
Contact | Link To Product | More Products By This Company
Images
Click on an image to see larger size image ...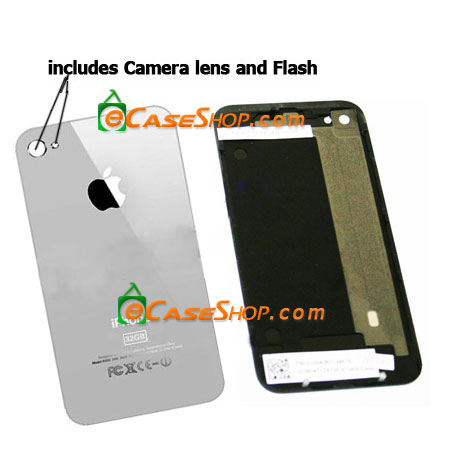 Specifications
| | | |
| --- | --- | --- |
| price | : | 37 |
| weight | : | 10 |
| color | : | white |
| brand | : | new |
| battery back door | : | iphone 4 32gb |
Details
Battery Back Door Assembly for Apple iPhone 4 32GB White
Battery Back Door For iPhone 4/4G, This iPhone 4 Back Battery Door for your Apple iPhone 4 and the perfect solution to fixing your bad, damage or scratched iPhone 4 Battery Back Cover. Replace the old scratched or damaged Battery Cover Faceplate of iPhone 4 with the brand new Rear Battery Case Replacement because that the old damaged housing may not work to guarantee a good running of the components.
* Brand New High Quality iPhone 4G Battery Door Case Housing Assembly
* OEM Genuine back door glass cover + bracket
* Precision molded cases to perfectly fit your iPhone.
* it is made of Plastic and metal.
* Content: Back Cover/Battery door + Bracket assemble, Camera lens + Flash Diffuser already installed with the back cover
* Thats very worthy to replace it, not buy new phone, and look like new.
* Replace your Apple iPhone 4 broken, damaged or cracked Battery Door Case with new one.
* Compatible: Apple iPhone 4 32GB.
* All Parts appearing exactly as how the picture shows.
* Note: It needs professional skills to install this item, We're not responsible for any damage caused by installation of this accessory!
* The Part is quality control tested before shipping so you know when you get your part it is ready to install.
Tags
iphone 4 32gb, battery back door, battery back panel, battery rear case, iPhone 4G 32gb
Disclaimer:
Submitters of product listings are solely responsible for their content. PRLog can't be held liable for the contents of the product listings.
Report Abuse