16GB iPhone 4 Back Housing Cover Assembly Black
Back Housing Cover Assembly for Apple iPhone 4 16GB Black, This iPhone 4 Back Battery Door for your Apple iPhone 4 and the perfect solution to fixing your bad, damage or scratched iPhone 4 Battery Back Cover
Contact | Link To Product | More Products By This Company
Images
Click on an image to see larger size image ...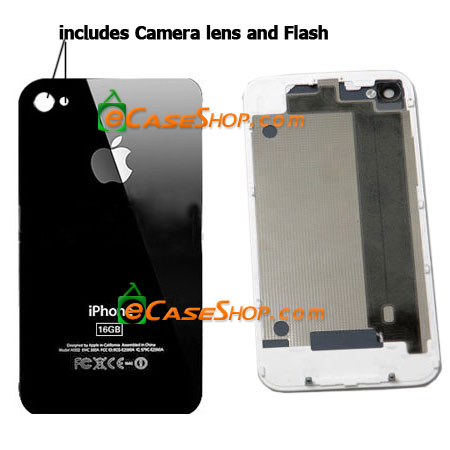 Specifications
| | | |
| --- | --- | --- |
| price | : | 37 |
| color | : | black |
| weight | : | 10 |
| brand | : | new |
| back housing cover | : | Apple iPhone 4 |
Details
Back Housing Cover Assembly for Apple iPhone 4 16GB Black
Back Panel Housing Cover For iPhone 4/4G, This iPhone 4 Back Battery Door for your Apple iPhone 4 and the perfect solution to fixing your bad, damage or scratched iPhone 4 Battery Back Cover. Replace the old scratched or damaged Battery Cover Faceplate of iPhone 4 with the brand new Rear Battery Case Replacement because that the old damaged housing may not work to guarantee a good running of the components.
* Brand New High Quality iPhone 4G Battery Door Case Housing Assembly
* OEM Genuine back door glass cover + bracket
* Precision molded cases to perfectly fit your iPhone.
* it is made of Plastic and metal.
* Content: Back Cover/Battery door + Bracket assemble, Camera lens + Flash Diffuser already installed with the back cover
* Thats very worthy to replace it, not buy new phone, and look like new.
* Replace your Apple iPhone 4 broken, damaged or cracked Battery Door Case with new one.
* Compatible: Apple iPhone 4 16GB.
* All Parts appearing exactly as how the picture shows.
* Note: It needs professional skills to install this item, We're not responsible for any damage caused by installation of this accessory!
* The Part is quality control tested before shipping so you know when you get your part it is ready to install.
Tags
Apple iphone 4, back housing cover, iphone back housing, iphone back cover, iphone back case
Disclaimer:
Submitters of product listings are solely responsible for their content. PRLog can't be held liable for the contents of the product listings.
Report Abuse