XBOX Rechargeable Play & Charge Kit Battery Pack 4000mAh AU$7.48: Earthbabycart
Enjoy playing your games with this rechargeable battery pack for your Xbox 360 controller and never run out of battery in the middle of the game. If you are a serious gamer or you are about to be one, then A 4000mAh Rechargeable Battery for your
Contact | Link To Product | More Products By This Company
Images
Click on an image to see larger size image ...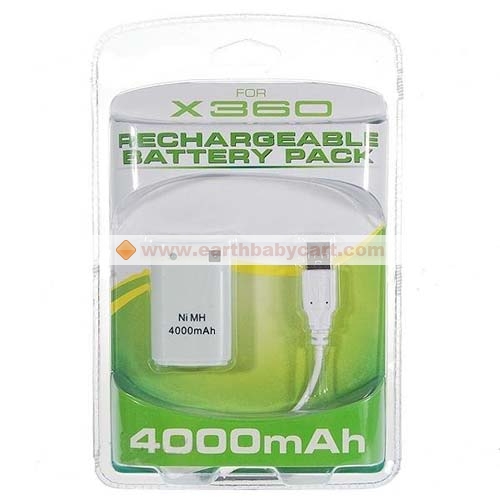 Specifications
| | | |
| --- | --- | --- |
| Voltage: | : | 3.7V |
| Capacity: | : | 4000 mAh |
| Status | : | Brand New |
| Suitable models | : | Xbox 360 |
| Modle | : | xbox 360 battery |
Details
XBOX 360 Rechargeable Play & Charge Kit Battery Pack 4000mAh Paffery pack (NEW)

www.earthbabycart.com/xbox-360-rechargeable-play-charge-kit-battery-pack-4000mah-paffery-pack-new_p761.html

Enjoy playing your games with this rechargeable battery pack for your Xbox 360 controller and never run out of battery in the middle of the game. If you are a serious gamer or you are about to be one, then A 4000mAh Rechargeable Battery for your xbox 360 wireless controller is a must. With this high performance battery pack you will not run out of battery every couple of days or when you are about to score winning or anytime in the game.

# This is a replacement battery pack with capacity of 4000mAh for XBOX360,compared with the original one you can find it has the same size of the battery,the large capacity can Provide a continuous power to your XBOX360
# Make your dream of uninterrupted playing come true

Specification:
# 100% Brand New with Retail Package
# Specially designed for DS lite
# Direct replacement battery for DS lite
# Lithium-polymer technology
# Simple and easy to install
# Voltage:3.7V
# Capacity:4000 mAh



Xbox 360 4000mAh Paffery pack (NEW)
• Can be used even when you are playing
• Overcharge protection
• Cable length: 118Cm
• LED indicator
• Easy to use, Just replace it with the current battery pack
• Colour: White
• Packaging: New in Sealed Retail Packaging
Tags
xbox 360 battery, 4000AM battery
Disclaimer:
Submitters of product listings are solely responsible for their content. PRLog can't be held liable for the contents of the product listings.
Report Abuse