UnicMatrix EMF Protection Pendant 'Drop Aqua'
Suffering from headaches? Feeling depressed? EMF might be the reason. UnicMatrix is the latest & most effective technology for EMF protection. Independent testing methods, physicians, athletes & celebrities worldwide confirm the sensational effect.
Contact | Link To Product | More Products By This Company
Images
Click on an image to see larger size image ...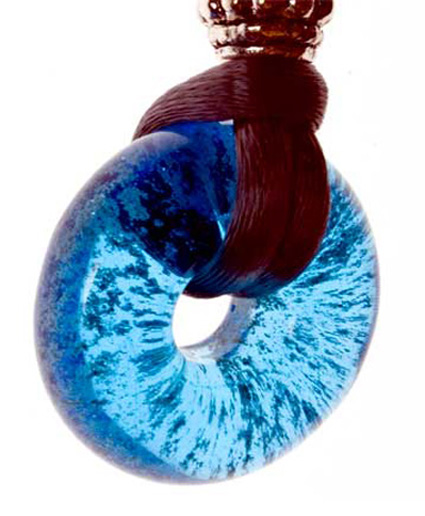 Specifications
| | | |
| --- | --- | --- |
| Glass | : | 2-2.5 cm |
| Color | : | Blue |
| Brand | : | UnicMatrix |
| Sort | : | Glass Drop |
| Matrix | : | Pyrolet® inside |
Details
EMF protection does not have to be plain and dull. Here comes the next generation: UnicMatrix, beautiful pendants with a purpose.

Drop Aqua is bright ocean blue, a glamorous accessory for every outfit. A beautiful piece of jewelry, which supports calmness, protects you every single minute of your day from electronic smog.

UnicMatrix is always on the job, protecting you from the negative impact of electronic smog. This plight of the electronic age is a leading cause of health problems, mental disorders, emotional issues, as well as premature skin aging. As an added bonus for the travelweary, Unicmatrix reduces jet lag! Each piece of UnicMatrix jewelry is a unique item embedded with the Pyrolet Matrix.

Independent testing methods, physicians, therapists, and plenty of happy users including professional athletes and celebrities all over the world confirm the sensational effect of the beautiful pendants.

Jim Boeven (German Actor, Los Angeles): "UnicMatrix makes me feel better, makes me look good, makes me happy. It works." Gary Miller (Music Producer, Malibu): "As a music producer I am surrounded by electrical appliances in my sound studio every day. I found it hard to concentrate at times and was tired in the evenings. Since I am wearing the UnicMatrix 'Plus Gold', I am more focused, I feel more lively but relaxed. Don't want to miss my pendant anymore."

For more information please visit the website www.unicmatrix.com.
Tags
Stress, depression, anxiety, emf protection, UnicMatrix, Pyrolet, Christmas gift, Headches, Energy pendant, EMF
Disclaimer:
Submitters of product listings are solely responsible for their content. PRLog can't be held liable for the contents of the product listings.
Report Abuse