JOYAL Mobile VSI Crushing Plant
Mobile VSI Crushing Plant Good performance Simple structure Strong construction Long service life Easy operation save energy save electricity
Contact | Link To Product | More Products By This Company
Images
Click on an image to see larger size image ...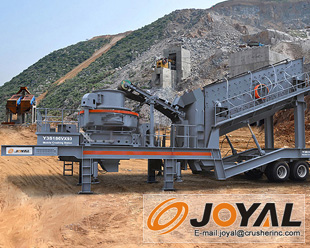 Specifications
| | | |
| --- | --- | --- |
| CQC | : | ISO9001:2008 |
| export countries | : | middle east, Africa, South America, Eastern Europe |
| warranty | : | 1 year |
| motor | : | Chinese famous brand |
| aftersale service | : | for the whole using life |
Details
Mobile Vertical Shaft Impact Crusher incorporates all the equipments together on one truck, which has high chassis, narrower body compared with other trucks, this ensure the crushing plant be easily transported on highways and moved to crushing sites, so it is able to achieve on-site crushing without material transporting from one place to another place. In addition, the lengthened plant is able to transport the final products to the motor-lorry directly. it can start to work soon even in the bumpy ground without reinstallation, so it saves more time and money than fixed crushing plant which needs to install individual equipment one by one.

Features of Mobile VSI Crushing Plant
1.High output and wide utilization ratio: compared with traditonal machinery under same power, its production capacity increases 30% and structure is stability.
2.Low comsumption of easy-wear parts.
3.Excellent shaped final products.
4.Lubrication system ensures reliable operation.
5.Over-vibration device is equiped to protect the machine when vibration surpasses a stipulated figure.
6.The adjustable feed hopper guarantees the best quantity of material.
7.Environment friendly.

Application
The mobile VSI crushing plant have been mainly applied in the field of road construction,metallurgy,energy ,city infrastructure and so on.
Tags
Mobile VSI Crusher, mobile crusher, portable crusher
Disclaimer:
Submitters of product listings are solely responsible for their content. PRLog can't be held liable for the contents of the product listings.
Report Abuse