Connectandfix.com Online Virus Removal Service
Online Virus Removal Service providing complete removal of viruses, malware, and spyware.
Contact | Link To Product | More Products By This Company
Images
Click on an image to see larger size image ...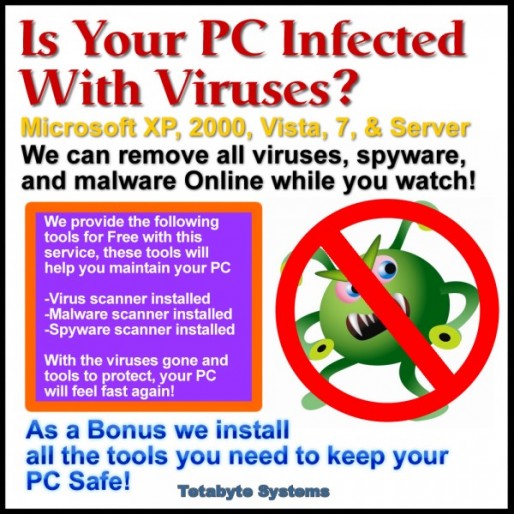 Specifications
| | | |
| --- | --- | --- |
| Service | : | Online remote support |
| Updates | : | lifetime |
| OS | : | Windows XP, Vista, 7, Server |
| Users | : | Business/home |
| Security Method | : | Active scanning with realtime protection |
Details
ONLINE COMPUTER REPAIR SERVICE

Fairly often you dont realize you have a virus until its too late. Its even worse when you find out from a friend that you sent him or her and all your other contacts viruses via email.

The problem is that when buying a new computer most manufacturers only include a limited antivirus subscription and most people never realize when it expires. However regular maintenance will bring these important issues to light and ensure a safe computing environment for you and your family.

With this service we will remotely connect and fix all issues related to viruses, malware, and spyware. This includes installation of the following protection applications that will remain licensed to you:

■Full (AV) antivirus Suite
■Enterprise class malware scanner
■Spyware removal application

Additionally, all future updates are included free, you WILL NOT be required to pay any subscription costs for virus/malware/spyware defintion updates.
Tags
online virus removal, remote services, business services, home users
Disclaimer:
Submitters of product listings are solely responsible for their content. PRLog can't be held liable for the contents of the product listings.
Report Abuse