JOYAL 3R2115 Raymond Mill
Raymond Mill Easy maintenance High efficiency Low cost High crushing ratio
Contact | Link To Product | More Products By This Company
Images
Click on an image to see larger size image ...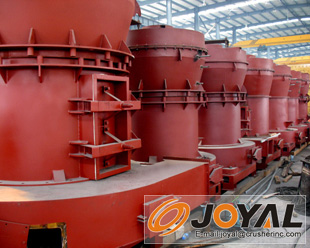 Specifications
| | | |
| --- | --- | --- |
| CQC | : | ISO9001:2008 |
| motor | : | Chinese famous brand |
| aftersale service | : | for the whole using life |
| export countries | : | middle east, Africa, South America, Eastern Europe |
| warranty | : | 1 year |
Details
The purpose of the raymond mill is to grind materials in the fields of building materials, mining, metallurgy and chemical industry. The materials must be non-flammable and non-explosive materials such as: limestone, calcite, barite, dolomite, potassium feldspar, marble, talcum, gypsum, kaoline, medical stone, rock phosphate, manganese ore, iron ore, glass, ceram, active carbon,carbon black,fireproof materials, heat preservation materials, chemical materials and so on(300 kinds of materials). The materials should have the hardness less than 7 in Moh's scale and humidity less than 6 percent. The granularity of the end products can be adjusted from 30 to 325 meshes.

Working Principle Of JOYAL Raymond Mill:

After the materials are put into the grinding room of the main equipment, the grinding roll swings outward and presses closely upon the grinding ring due to the centrifugal force in rotation of the main shaft. The shovel carries materials to the space between the grinding roll and grinding ring, and materials are ground as the grinding roll rolls.

After being ground, the powder is selected by Separator via the cycle wind of the blower and the rough powder will be back to the grinding room for regrinding. The proper powder is brought into the powder collector together with airflow. The powder comes out as end products while the airflow goes back to the powder collector in cycling to make the machine work normally. The increased airflow comes out after purification.

Main Specifications Of Raymond Mill:
Model Grinding Roll Grinding Ring Feeding
Size
(mm) Output
(mm) Capacity
(t/h) Motor
Power
(kw) Overall
Dimension
(mm)
Numbers
(pcs) Diameter
(mm) Height
(mm) Outside
Diameter
(mm) Height
(mm)
3R2115 3 210 150 726 150 <15 0.613-0.044 0.28-1.8 28.2 4480×
3100×
3970
Tags
raymond mill, mill, grinding mill, mining mill, raymond grinder
Disclaimer:
Submitters of product listings are solely responsible for their content. PRLog can't be held liable for the contents of the product listings.
Report Abuse