JOYAL 2PG400×250 Roller Crusher
Roller Crusher Easy maintenance High efficiency Low cost High crushing ratio
Contact | Link To Product | More Products By This Company
Images
Click on an image to see larger size image ...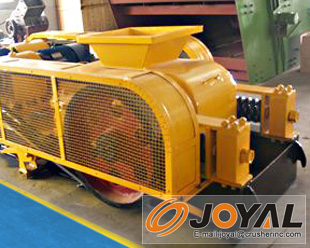 Specifications
| | | |
| --- | --- | --- |
| CQC | : | ISO9001:2008 |
| installation | : | as engineer assigned |
| warranty | : | 1 year |
| export countries | : | middle east, Africa, South America, Eastern Europe |
| aftersale service | : | for the whole using life |
Details
The roller crusher has widely application in the industries of mining, building materials, chemical industry, metallurgy, etc. The roller crusher can crush materials with middle hardness or less than middle hardness into secondary or fine granularity, such as crushing mineral, rocks, coke, coal, slag, scoria, and fire-proof material etc.

Working Principle of JOYAL Roller Crusher
The fixed part of roller and movable roller are driven by the motor via reducer and v-belt, the raw materials fall into the part between the two rollers from inlet of the machine. The two rollers rotates inward simultaneously. The materials are extruded, crushed and ground, then the end products come out from the bottom of this crusher.

Usage and Application of Roller Crusher
The machine is widely used for secondary and fine crushing in mining, metallurgy, building materials, chemical industry and so on. It can crush materials that in middle hardness such as rocks, ore, coke, lump coal, slag, scoria, fireproof materials, and building materials and so on.

Main Specifications Of Roller Crusher
Item

Model Feeding
Size
(mm) Output Size
(mm) Capacity
(t/h) Motor
Power
(kw) Weight
(t) Overall
Dimension
(mm)
2PG400×250 <35 2-8 2-10 2×5.5 1.3 2350×1000×930
Tags
roller crusher, Stone Crusher, Rock Crusher, Crusher, ore crusher
Disclaimer:
Submitters of product listings are solely responsible for their content. PRLog can't be held liable for the contents of the product listings.
Report Abuse