JOYAL ZYS36B Symons Cone Crusher
Symons Cone Crusher Good performance Simple structure Strong construction Long service life Easy operation save energy
Contact | Link To Product | More Products By This Company
Images
Click on an image to see larger size image ...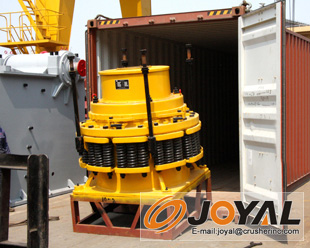 Specifications
| | | |
| --- | --- | --- |
| CQC | : | ISO9001:2008 |
| installation | : | as engineer assigned |
| warranty | : | 1 year |
| export countries | : | middle east, Africa, South America, Eastern Europe |
| aftersale service | : | for the whole using life |
Details
The JOYAL Symons Cone Crusher is a high-performance models optimized and improved on the basis of Symons Cone Crusher. The Symons Cone Crusher is widely used for secondary and fine crushing in the fields of mining, building materials, metallurgies and so on. The Symons Cone Crusher can crush materials with middle and high hardness, such as, metal ore, basalt, granite, limestone, cobblestone, sandstone and so on.

Features Of The Symons Cone Crusher in my company Shanghai Joyal Mining Machinery Co., Ltd.:

1. Customers can choose suitable crushing chamber according to the material feature, finished product fineness and particle size requirement.
2. Unique dustproof and sealing structure extend cycle of lubricants replacement and spare parts service life
3. The key parts are made of special materials, which support the strong crushing.
4. With long crushing arm, big stroke, strong crushing, and high capacity.
5. Hydraulic chamber cleaning system, easy operation, and reduce machine halt time.
6. With reliable performance, low investment cost, and long service life of wearing parts.

Main Specifications Of Symons Cone Crusher:

Model Cavity Size Max Feeding Size(mm) Adjusting Range of Output Size(mm) Capacity (th) Motor Power (kw) Weight (t) Overall Dimension (mm)
ZYS36B Fine 85 9~22 45~91 75 14.5 2656×1746×2410
Coarse 150 13-38 59~163
Extra Coarse 152 25-38 118~163
Tags
cone crusher, Crusher, Stone Crusher, Rock Crusher
Disclaimer:
Submitters of product listings are solely responsible for their content. PRLog can't be held liable for the contents of the product listings.
Report Abuse