JOYAL PCL-600 PCL Impact Crusher
PCL Impact Crusher Easy maintenance High efficiency Low cost High crushing ratio
Contact | Link To Product | More Products By This Company
Images
Click on an image to see larger size image ...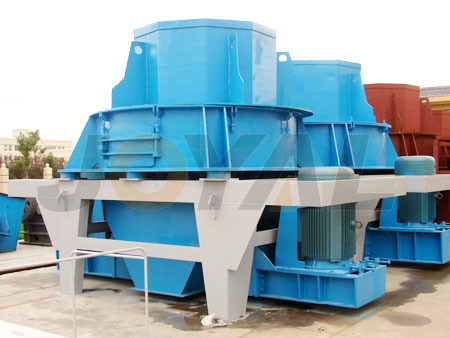 Specifications
| | | |
| --- | --- | --- |
| installation | : | as engineer assigned |
| CQC | : | ISO9001:2008 |
| motor | : | Chinese famous brand |
| warranty | : | 1 year |
| export countries | : | middle east, Africa, South America, Eastern Europe |
| aftersale service | : | for the whole using life |
Details
The PCL Impact Crusher is widely used for fine crushing and coarse grinding in mining, rocks, fireproof materials, glass raw material and metallurgy residues. The PCL Impact Crusher is much more professional than other crushers in crushing hard and anti-abrasion materials such as carborundum, sintered bauxite, magnesite and so on. The Crusher is usually used as sand making machine in the sand washing plant.

Working Principle Of PCL Impact Crusher

The materials fall into the crusher and be divided into two parts. One part goes into the high-speed-running impeller of the machine, and the other part goes around the impeller of the PCL Rock Crusher. The two parts materials fast bump and crush during the effect of centrifugal force. Then the materials run like swirl, bump and rub to each other again and again. The finished products go out from the bottom of the machine, and users can get the requested products size after screening by vibrating screen.

Features Of The PCL Series Vertical Shaft Impact Crusher in my company Shanghai Joyal Mining Machinery Co., Ltd.:

1. Simple structure and low investment cost.
2. High efficiency and low consumption.
3. Scaleboard of the impeller is easy in maintenance and seldom damaged.
4. With the function of fine crushing and coarse grinding.
5. Slightly influenced by the moisture content of the material. The max moisture content is 8%.
6. Suitable for crushing materials of middle hardness and high hardness.
7. Cubic shaped finished products, high density of piling up and low iron pollution.
8. Working noise < 75db, and less dust pollution.

Main Specifications Of PCL Series Vertical Shaft Impact Crusher:

Model Impeller Speed (rpm) Max. Feeding size (mm) Capacity (t/h) Motor Power (kw) Weight (t) Overall Dimension (mm)
PCL-600 2000-2600 30 12-30 2×30 5.6 2800×1500×2030
Tags
PCL impact crusher, impact crusher, Stone Crusher, Rock Crusher, Crusher
Disclaimer:
Submitters of product listings are solely responsible for their content. PRLog can't be held liable for the contents of the product listings.
Report Abuse