Ball Mill ,best selling for the world
The ball mill is suitable in the powder rubs each kind of ore and other materials.
Contact | Link To Product | More Products By This Company
Images
Click on an image to see larger size image ...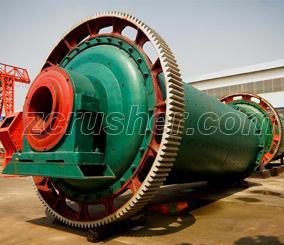 Specifications
| | | |
| --- | --- | --- |
| color | : | any color is avilable |
| Installation | : | Under our engineer's guide |
| Application | : | Ore |
| Capacity (t/h) | : | 0.65-90 |
| Guarantee period | : | the whole using life |
Details
The ball mill is suitable in the powder rubs each kind of ore and other materials, the balll mill is widely used in the dressing, professions, building materials and chemical industry and so on. It is divided into two rubbing way-the dry and the wet .There are two kinds of ball mill, grate type and overfall type due to different ways of discharging material. The ball mill is a key equipment to grind the crushed materials after the material were broken , and carrying on the smashing again. and the ball mill is widely used in powder-making production line including cement, silicate, new-type building material, refractory material, fertilizer, ore dressing of ferrous metal and non-ferrous metal, glass ceramics, etc,the ball mill carries on the dry type or the wet powder to each kind of ore and other grindability material rubs.

Working Principle:
The ball mill is a horizontal rotating device transmitted by the outer gear. The materials are transferred to the grinding chamber through the quill shaft uniformly. There are ladder liner and ripple liner and different specifications of steel balls in the chamber. The centrifugal force caused by rotation of barrel brings the steel balls to a certain height and impact and grind the materials. The ground materials are discharged through the discharging board thus the grinding process is finished.

Ball Mill Application:
The ball mill is a key equipment for regrinding. It is widely used for the cement, the silicate product, new type building material, fire-proof material, chemical fertilizer, black and non-ferrous metal, glass, ceramics and etc. Our ball mill can grind ore or other materials that can be grinded either by wet process or by dry process.
A.Involved equipment:
jaw crusher,ball mill,impact crusher,crusher, stone crusher,crusher machine, beneficiation equipment,rotary kiln,rotary dryer, magnetic separator,floatation machine,stone production line,sand production line,fine crusher,rod mill,spiral classifier,raymond mill,sandstone production line,double roll crusher,sand washing machine,hammer crusher,iron ore beneficiation process flow,iron ore beneficiation equipment,iron ore dressing,mining machinery,ore dressing machinery,mineral processing equipment,mine selecting equipment,ore sorting equipment,
Tags
ball mill, ball milling, mine machine, milling, mine mill
Disclaimer:
Submitters of product listings are solely responsible for their content. PRLog can't be held liable for the contents of the product listings.
Report Abuse