JOYAL Y3S Series Mobile Impact Crusher
Mobile Impact Crusher feature can crush materials on site save energy convenient maintenance long service life
Contact | Link To Product | More Products By This Company
Images
Click on an image to see larger size image ...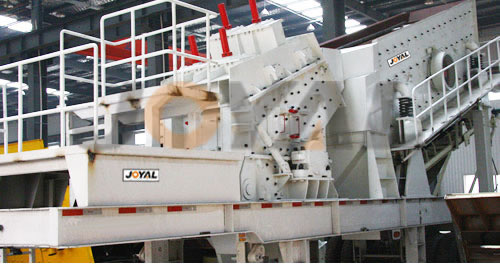 Specifications
| | | |
| --- | --- | --- |
| CQC | : | ISO9001:2008 |
| installation | : | as engineer assigned |
| motor | : | Chinese famous brand |
| warranty | : | 1 year |
| aftersale service | : | for the whole using life |
| export countries | : | middle east, Africa, South America, Eastern Europe |
| spare parts supply | : | for the whole using life |
Details
The Mobile Crusher is not limited by the crushing place, and reduces high material transportation cost. The Mobile Crusher can crush materials on site or work nearly. The Mobile Crusher is widely used in the industry of mining, metallurgy, building materials, traffic, and water conservancy facilities and so on.

Features Of Mobile Crusher in my company Shanghai Joyal Mining Machinery Co., Ltd.:

1. Move easily.It can go to the crushing place where is difficult to go. It not only can drive on the smooth road, but also on the bumpy road.
2. Compact structure and simple operation. Integrative equipment group with trailer saves the working area. With generator, motor and control box, it can work in any place even there is no electricity. With supporting equipment on the trailer, so no need to install the machine.
3. Save the cost. Crush the materials on site, reduce the transportation cost.
4. Wide application. The crushing plant can work as independent unit; work with other unit to do primary and secondary crushing; work with two other units to do primary, secondary, and fine crushing; working as a production line with the screening equipment (firstly screening then crushing, or firstly crushing then screening.)
5. Good performance and convenient maintenance. The crushers, vibrating feeders, and vibrating screens are from Shanghai Joyal Heavy Industry, so the quality is reliable and stable. Material is delivered by belt conveyors, which is simple in operation, easy maintenance, and low investment.
6. Flexible configuration. Can provide suitable portable crushing plant based on customers working site, material typical, and particle shape requirement. Such as single unit, combined units, self-load belt conveyor unit and so on.

Main Specifications Of Mobile Impact Crusher:

Model Vibrating screen Impact crusher Belt conveyor Capacity (t/h) Power (kw) Max
Dimension
L×W×H (mm) Total weight
(t)
Y3S1548F1010 3YZS1548 PF1010 B500×7M 50-250 70-90 12500×
2800×
6000 42
Y3S1848F1210 3YZS1848 PF1210 B650×7M 70-300 128.5-150.5 12500×
3000×
6500 46
Y3S1860F1214 3YZS1860 PF1214 B650×8M 90-400 154-190 13500×
3000×
6500 51
Tags
impact crusher, mobile crusher, portable crusher, moveable crusher
Disclaimer:
Submitters of product listings are solely responsible for their content. PRLog can't be held liable for the contents of the product listings.
Report Abuse