12V 4A AC Power Adapter for LCD Monitor Generic
Features of 12V 4A AC Power Adapter for LCD Monitor Generic
Contact | Link To Product | More Products By This Company
Images
Click on an image to see larger size image ...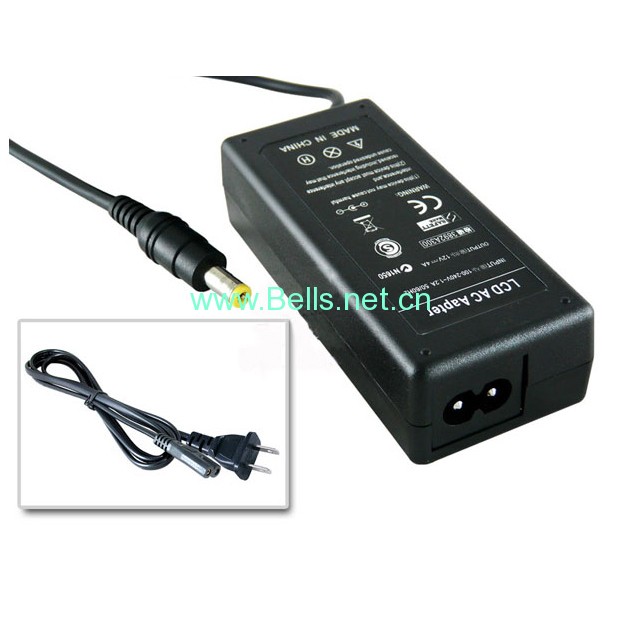 Specifications
| | | |
| --- | --- | --- |
| weight | : | 0.68lbs |
| input | : | worldwide use |
| output | : | DC12V 4A |
| power | : | 48watt |
| package dimensions | : | 195.0x100.0x0.0mm |
Details
LCD AC Adapter 12V 4A

Input: AC100-240V (worldwide use)
Output: DC12V 4A
Power: 48W
DC Plug dimensions:
Inner diameter - 2.5mm
Outer diameter - 5.5mm
Attention! Please make sure the part will match your machine before bidding. We do have 12V 3A, 3.5A and 5A ac power adapter available.
Item Includes: AC Adapter and Power Cord.
Brand New Replacement Product, works as genuine parts, 100% OEM Compatible!!
Full 12 months warranty!!

Compatible Part Number

CH-1204, 399698-001, LE-9702B, ADP-4801, ADPC12350AB, F1650K, F1670K, EA1050E-120, SAD3912SE

Fit Laptop Model

ACER LCD MONITOR: AC501, AC711, AC915, AF705, AL506, AL511, AL512, AL532, AL712, AL713, AL715, AL716, AL722, AL732, AL922
ADI LCD MONITOR: A2304, A500, A5000, A501, A502, A505, A700, A701, A704, A707, A904, I600, I610, MJ15, MJ175, MX15, S500
AG Neovo LCD MONITOR: F-417, F-419, M-15, S15T, S15V
AOC LCD MONITOR: LM520, LM720, LM729, LM800, LM914
BENQ LCD MONITOR: FP2081, FP450, FP547, FP553, FP557, FP563, FP567, FP581, FP591, FP731, FP747, FP757, FP761, FP794, FP855, FP991
CTX LCD MONITOR: P922, PV500BT, PV505B, PV520, PV5500B, PV700, PV700B, PV70MDV, PV720, PV7201, PV720A, PV722E, PV722I, PV910MD, PV910MDB, S500, S501BA
EMachines: E15T3, E15TG, E15TG-R, E17TR
HITACHI LCD MONITOR: EM, MV140, MV151, MV170, MV171, MV173
KDS LCD MONITOR: RAD-5, RAD-7C, RAD-9P
MITSUBISHI LCD MONITOR: DV150
NEC LCD MONITOR: TFT5000
PROVIEW LCD MONITOR: PL566, PL766, PL866, PL966
Sampo LCD MONITOR: LME-17S1
VIEWSONIC LCD MONITOR: Q170, Q170B, V150, V170

Sun microsystem SUN-L151 15" flat panel LCD monitor

------------------------------------------------

Shenzhen Bells Electronics Co.,Ltd
ISO9001:2000 Certified

Contact: Mr. Felix
E-mail: bellssale007@bells.net.cn
Skype: bells.seven
Tags
lcd adapter, Moniter adapter, LCD AC Adapter, LCD Power adapter, LCD Monitor adapter
Disclaimer:
Submitters of product listings are solely responsible for their content. PRLog can't be held liable for the contents of the product listings.
Report Abuse