Replacement iPhone 4 Back Cover Assembly Blue
Rear Battery Cover with Backing Plate For iPhone 4 4G Blue for you replce original phone This High Quality iPhone 4G Rear cover for you iPhone 4G the perfect solution to fixing your bad, damage or scratched.Give you a whole New iPhone 4G Phone.
Contact | Link To Product | More Products By This Company
Images
Click on an image to see larger size image ...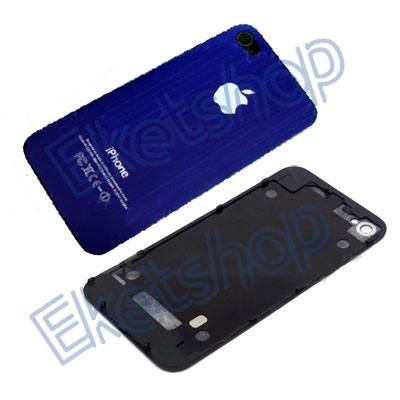 Specifications
| | | |
| --- | --- | --- |
| name | : | iphone 4 |
| color | : | blue |
| quality | : | 1000 |
| brand | : | apple |
| country | : | hongkong |
Details
* Brand New High Quality iPhone 4G Blue Back Battery Cover Housing (Non-OEM).
* Durable material, premium craftsmanship
* it's not original,but the quality is much better than the original.
* Precision molded cases to perfectly fit your iPhone 4G Back Housing.
* iPhone 4G Back Housing is made of aluminum, not include the Mobile phone and housing
* Replace your Apple iPhone 4G broken, damaged or cracked Battery Backing Cover with new one.
* Complete With Apple iPhone 4G 16GB,32GB.
* Color: Blue.
* Other Colors: Blue,Gold,Gray,Light Blue,Green,Pink,Red,Purple,Silver on Eketshop.com
* All Parts appearing exactly as how the picture shows.
* Note: Eketshop.com is not responsible for any damage caused by installation of this accessory! This iPhone 4G Accessories Not supplied fitting manual !

Package content:
1 x Blue Back Battery Cover Housing Glass For iPhone 4 4G
Tags
iphone 4g, iPhone 4G metal, iPhone 4G housing, iPhone 4G back, iPhone 4G cover, iPhone 4G case
Disclaimer:
Submitters of product listings are solely responsible for their content. PRLog can't be held liable for the contents of the product listings.
Report Abuse